Harper manufacturing program goes to Washington
Harper manufacturing program goes to Washington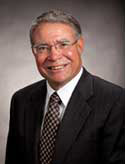 Harper College President Dr. Ken Ender has been named to a high level White House Committee working to solve the shortage of skilled workers for the resurgent manufacturing industry. The appointment comes after Harper received a $13 million federal grant to spread Harper's advanced manufacturing program to community colleges across Illinois.

In November 2013, manufacturing activity grew at the fastest pace since April 2011, according to The Institute for Supply Management. But a shortage of skilled manufacturing workers could slow down growth and hurt the overall U.S. economy.
"It's imperative that we train workers for 21st century jobs and build that pipeline to our manufacturers," Ender said.
Ender joined other members of the Advanced Manufacturing Partnership Steering Committee "2.0," for the inaugural meeting December 3, 2013, in Washington. The panel was put together by former Chicagoan and now U.S. Commerce Secretary Penny Pritzker. The committee will look at programs to train more workers in advanced manufacturing skills and find ways to spur development of promising new manufacturing technologies.
"This steering committee is about trying to ensure that we not only continue existing manufacturing, but bringing back some of the off-shored production and starting new manufacturing based on innovation," Ender said. "That's what will create new jobs."
Harper's advanced manufacturing program is being considered as a model for training programs nationwide. Developed in close partnership with area companies, Harper's program includes fast track manufacturing certificates, paid internships and clear pathways to associate and bachelor degrees.
"We have 78 students in the program who all have educational plans that lead them through an associate degree and some to a baccalaureate, and all have or will participate in a paid internship," Ender said. "My early take is that it's going really well."
Other members of the Advanced Manufacturing Partnership Steering Committee "2.0," include the CEOs of Northrop Grumman Corp., Caterpillar Inc., Honeywell, Siemens Corp., The Dow Chemical Co. and Alcoa Inc., as well as the presidents and chancellors of Georgia Tech, Massachusetts Institute of Technology, University of Akron, University of California at Berkeley and University of Michigan.