Harper to stage Tony Award-winning play
Harper to stage Tony Award-winning play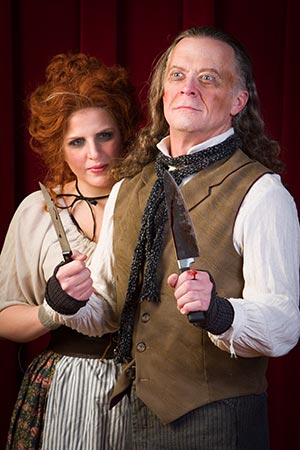 Mixing intense drama with dark humor, the Tony Award-winning musical "Sweeney Todd: The Demon Barber of Fleet Street" will take the stage at Harper College beginning March 14.
"Sweeney Todd" tells the story of an unjustly exiled barber who returns to 19th century London seeking revenge, exacting it on his unfortunate customers and forming a partnership with the proprietress of the pie shop downstairs. Soon, people are lining up in droves to sample her mysterious new meat pie recipe.
Laura Pulio Colbert, Speech and Theatre Professor at Harper and director of "Sweeney Todd," said she was looking to stage a show outside of her comfort zone. With its technical challenges and dark subject matter, Stephen Sondheim's gritty melodrama was the right fit.
"In his attempt to seek revenge, Sweeney Todd destroys more than himself," Colbert said. "While it may be difficult for us to relate to his actions, the pathos behind them is part of our shared humanity. 'Sweeney Todd' reminds us that our actions have consequences beyond the obvious."
For Bartlett resident David Gordon, cast as the titular Sweeney Todd, the role is a dream come true.
"Sweeney is a role I have wanted to play from the time I first heard the original Broadway cast recording, even though I was far too young to play him at the time," Gordon said. "It is truly the most challenging role I have ever attempted, both emotionally as an actor and musically as a singer. I am so thrilled to be part of this production."
Gordon has a long history with the Harper stage.
While attending the College as a student, he appeared in the 1976 production of "Godspell," the first musical ever produced at Harper. He also gave director Colbert her first paid acting job at his dinner theater over 30 years ago.
"I've seen the theatrical production facilities at the College certainly come a long way from 'Godspell,' Gordon said.
Being afforded the opportunity to collaborate again on the spring musical has been a celebration of a decades-long relationship, Colbert said.
"The roots of our program run deep in this community, and the relationships we make with our students today last a lifetime," Colbert said.
"Sweeney Todd: The Demon Barber of Fleet Street" won the Tony Award for Best Musical in 1979 and was adapted into a 2007 film starring Johnny Depp – though Gordon said that Harper's production deserves to stand on its own.
"Those who are only familiar with the movie need to experience the stage version of the show to truly appreciate its significance to American musical theater," Gordon said.
Performances are at 8 p.m. Fridays and Saturdays and 2 p.m. Sundays from March 14 to March 23 in the Performing Arts Center on the College's main campus, 1200 W. Algonquin Road in Palatine.
Tickets are $15 and available through the box office at 847.925.6100 or harpercollege.edu/boxoffice.
Press contact: Kim Pohl, Media Relations Manager, 847.925.6159