Secretary Penny Pritzker named commencement speaker
Secretary Penny Pritzker named commencement speaker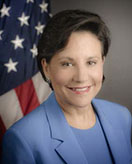 March 4, 2014
U.S. Commerce Secretary Penny Pritzker will address Harper graduates at the College's graduation and commencement ceremony Saturday, May 17.
Pritzker was sworn in as the 38th Secretary of Commerce last year. She is a civic and business leader with more than 25 years of experience in the real estate, hospitality, senior living and financial services industries.
Pritzker named Harper President Dr. Ken Ender to a White House committee working to solve the shortage of skilled workers for the manufacturing industry. In December, Ender joined other members of the Advanced Manufacturing Partnership Steering Committee "2.0" for an inaugural meeting in Washington.
"Our community colleges are a vibrant and valuable part of our nation's education system and America's economy as a whole," said U.S. Secretary of Commerce Penny Pritzker. "Locally, they play the critically important role of training our workforce with the skills they need to compete for the jobs of the future. I look forward to speaking at Harper and celebrating the college's stellar efforts to give their students the tools they need to succeed."
Ender said Pritzker's efforts align with Harper's continued emphasis on partnerships with area businesses and community stakeholders.
Harper launched an Advanced Manufacturing program in fall 2012 that allows students to complete an industry-endorsed skills certificate in less than a year. Developed in close partnership with area manufacturers, the program helps place students in paid internships to give them on-the-job training in 21st century careers.
"Key U.S. industries are experiencing a shortage of skilled workers and community colleges are playing a key role in filling that gap," Ender said. "We welcome Secretary Pritzker to help recognize the strides community colleges are making in training the workforce of the 21st century and making sure higher education is accessible and affordable to all."
The commencement ceremony is at 11 a.m. Saturday, May 17, on the lawn adjacent to Parking Lot 1 and Building M on the main campus, 1200 W. Algonquin Road in Palatine.
Press contact: Kim Pohl, Media Relations Manager, 847.925.6159