Harper College receives $1 million gift from Rita and John Canning
Harper College receives $1 million gift from Rita and John Canning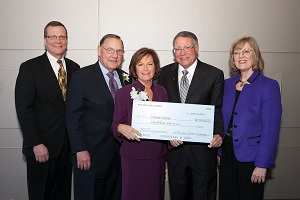 March 14, 2014
Harper College President Dr. Ken Ender this week announced a $1 million gift by Rita and John Canning. The Inverness couple's commitment is the first seven-figure donation in the College's 47-year history.
The gift will benefit the Rita and John Canning Women's Program, which provides educational support, resources and the opportunity for a fresh start to single parents, displaced homemakers and others – many of whom are survivors of domestic violence.
"The mission of the Foundation is to make higher education accessible and affordable to as many people as possible, and the Cannings' gift just made the dream of college a reality for countless new individuals," Harper College Educational Foundation Board President Tom Wischhusen said.
Harper College will name its future One Stop Student Center after the Cannings to recognize their generosity and longtime support. The planned student center, which is scheduled to open in 2017, will consolidate the College's admissions, registrar, financial aid and business offices, making it easier and more convenient for students to enroll at Harper.
"We strongly believe in empowering women to soar to great heights," Rita Canning said. "We're inspired by the countless number of courageous women, many in their darkest moments, who have turned to Harper College to start on a new path. By offering the support, resources and often the confidence they need, the Women's Program impacts the lives of women and their families in a truly meaningful way."
Harper College President Dr. Kenneth Ender, the Harper College Board of Trustees and the Educational Foundation Board of Directors hosted a special reception March 12 in the Wojcik Conference Center. More than 100 supporters attended including State Representatives Tom Morrison and Michelle Mussman, former longtime State Representative Suzie Bassi and former Palatine Mayor Rita Mullins.