Mini-masterpieces featured in new art exhibit
Mini-masterpieces featured in new art exhibit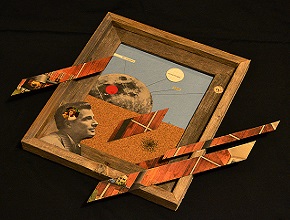 March 20, 2014
Small-scale artwork from artists across the nation will be on display in Harper College's 37th annual National Juried Exhibition, a celebration of mini-masterpieces put on paper.
Nearly 500 artists submitted a collective 173 pieces for consideration in this year's show, which runs Monday, March 24, through Thursday, April 17, in the College's Art Exhibition Space, Room C200, Building C on the main campus, 1200 W. Algonquin Road in Palatine.
Previously known as the "Small Works" exhibition, this year's theme "Works on Paper" will feature a wide array of artwork from contemporary drawing media to prints that incorporate traditional and digital processes. Shaurya Kumar, assistant professor of Printmedia at the School of Art Institute of Chicago, curated this year's exhibition.
"Five of this year's selected submissions are from the area, affirming that Chicago is home to many talented artists," said Margaret Buchen, Art Curator at Harper College.
Buchen said some of the media used in the drawings include ink, graphite, gouache and paper cutouts, as well as contemporary photographic techniques that layer information and content.
The exhibit, which is free and open to the public, is sponsored by the Harper College Educational Foundation. Viewing times are 8:30 a.m. to 4:30 p.m. weekdays. For more details on Harper's Art Department and exhibits, visit harpercollege.edu/arts.
Press contact: Kim Pohl, Media Relations Manager, 847.925.6159