InZone camp registration open
InZone camp registration open
March 25, 2014
Get ready for a summer of rocket launch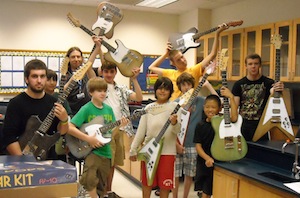 es, robot wars, delectable dishes and movie stars. For more than a decade, Harper College's InZone summer enrichment and sports camp has created memorable summers for children ages 8 to 14, with a host of fun and unique courses in a wide range of subjects.
From an acting camp that culminates in a screening on campus to video game and phone app design classes, InZone offers nearly 200 indoor and outdoor courses covering sports, music, fashion, dance, cooking, swimming, reading, science and more.
"Our classes are an opportunity for everyone," InZone coordinator Kevin Hahn says. "It's a chance to develop new interests or strengthen your existing skills."
InZone runs in two-week sessions June 9 through Aug. 15. The camp is open 7 a.m. to 6 p.m. weekdays, with morning and afternoon classes, lunch options and before/after care available. The program also boasts an 8-to-1 child/staff ratio and a safe environment with a professional nurse on site.
This year, InZone will again partner with the Chicago Cubs Baseball Camp to bring a one-week elite baseball camp to campus. Past favorites will also return, including Cupcake Canvas, Star Wars, fashion design, Harry Potter classes, a rocket-launching course, LEGO Battlebots and a Sloppy Science class that lets students make their own crystals, quicksand and bubblegum. Some InZone classes even offer campers a taste of reality show competitions such as Kitchen Clash, in which groups create different dishes with the winning creations compiled into a recipe book.
In addition to the variety, Hahn said InZone stands apart because of the quality of instruction students receive. Classes are run by professionals or experts in their fields, and there's a focused curriculum with a set of outcomes. "These are fun, safe programs in the same facilities that college kids use," Hahn said.
Registration is now open. For information or to browse the full camp catalog, visit https://ce.harpercollege.edu/public/category/programArea.do?method=load&selectedProgramAreaId=29366, email Hahn at khahn@harpercollege.edu or call (847) 925-6876.