#GoForward with coffee giveaway campaign
#GoForward with coffee giveaway campaign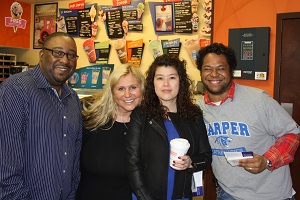 April 14, 2014
Harper College has set out to open the community's eyes to the possibilities of education with the launch of its "Good morning. #GoForward." coffee giveaway campaign.
Now through Thursday, April 17, customers at participating Dunkin' Donuts will receive a free beverage courtesy of the College, along with a postcard listing free offers to get them started on their journey at Harper.
"It's important that members of the community know about the many opportunities available to them at Harper," said Donna Harwood, Senior Marketing Specialist at Harper. "We hope to inspire and motivate people to take a step toward lifelong learning."
Representatives of Harper – including about 15 faculty members volunteering to help with the campaign – will be on-hand certain mornings at various Dunkin' Donuts stores in Arlington Heights, Barrington, Elk Grove Village, Mount Prospect and Schaumburg.
Veronica Mormino, assistant professor in geography, joined colleagues Travaris Harris and Karega Cooper at the Schaumburg location and got a warm reception.
"It's clear that Harper has an excellent reputation in the community," Mormino said. "We talked to so many customers from parents happy with the education their kids received to people curious about new programs."
Harwood said coming up with innovative outreach initiatives such as "Good morning. #GoForward." is critical to standing out in the nation's third most expensive media market. Harper faces multiple competitors with deep pockets – several for-profit colleges spend more than six figures on advertising daily – and the proliferation of media channels.
"This is a way to break through the clutter and really engage our audience," Harwood said.
Customers who enjoy the break in their daily grind are encouraged to spread word of their experience using #GoForward on social media.
In addition, they can use their postcard to meet with an admissions representative to discuss career goals and education options and have the $25 application fee waived. They're also invited to the College and Career Expo for kids on Saturday, April 26, and to the Inspire U: Experience Expo for Adults on Saturday, May 3.
Press contact: Kim Pohl, Media Relations Manager, 847.925.6159.