Edible Books Contest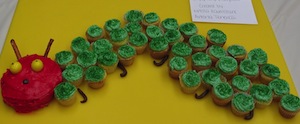 April 7, 2014
Here's a chance to read your book and eat it too. In a nod to National Library Week, the Harper College Library will hold its seventh annual Edible Books Contest on Wednesday, April 16.
The community is welcome to enter an ingestible masterpiece into the culinary- and literary-inspired competition. There are four categories: best representation of a children's book, favorite character, best representation of an adult book and this year's selection for the One Book, One Harper community reading initiative, "The Immortal Life of Henrietta Lacks."
Previous submissions have included a caterpillar crafted from three dozen cupcakes in an ode to the children's book "The Very Hungry Caterpillar," as well as Rice Krispies molded into a battle droid to represent "Starship Troopers."
Cakes are time-honored entries, with some of the best coming from students enrolled in Harper's cake decoration course. But library assistant Melissa Goeppinger said all types of sweet and savory cuisine are welcome. "It doesn't need to be cake or even dessert," Goeppinger said. "We once had a sushi tribute to Hemingway's 'The Old Man and the Sea.' The purpose is to celebrate and encourage reading."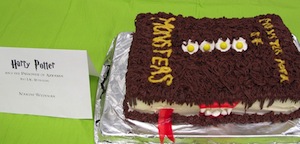 Participants have until April 14 to complete an entry form, available at the Harper Library, Building F on the College's main campus, 1200 W. Algonquin Road in Palatine. Submissions are due between 10:30 and 11:30 a.m. on the day of the contest. Winners and prizes will be awarded at 12:30 p.m., at which time a slate of judges will slice up the entries for attendees to eat.
For more details, visit harpercollegelibrary.weebly.com or call 847.925.6184.
Press contact: Kim Pohl, 847.925.6159