"Fearless" Fashion Show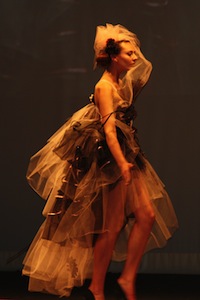 May 8, 2014
Fashion lies in being bold. That's the theme Harper College's Fashion Design students are embracing for this year's Fashion Show, "Fearless." As a result, organizer Tom Tucker said the crowd can expect a lot of cutting-edge, out-of-the-box and even "post-apocalyptic" designs.
"This is giving our students a lot of freedom to push their artistic limits," said Tucker, who teaches in the program and directs students who produce the show. "They can really flex their creative muscles with color, design, fabrication and materials."
The annual professional-caliber event, which showcases students' original work and designs, takes place Friday, May 16, at the Performing Arts Center on the College's main campus, 1200 W. Algonquin Road in Palatine. A group of industry professionals helped jury the designs last month. Students whose work was not selected will work the show – which incorporates working models, professional-quality lighting and sound and large video screens that complement the designs – behind the scenes. The show begins at 8 p.m., with pre-show appetizers and cash bar starting at 7 p.m. A raffle will benefit WINGS, a nonprofit organization that supports homeless and abused women and children.
A daytime runway show will take place earlier in the day at 1 p.m. and includes the Harper Challenge, a fashion competition showcasing the design work of area high school students. Tickets for the primetime event are $25 or $20 for students with ID. The daytime show is $10 or $5 for students with ID.
To purchase tickets, contact the Harper College Box Office at 847.925.6100 or harpercollege.edu/boxoffice.