Chicago art exhibit features student work
Chicago art exhibit features student work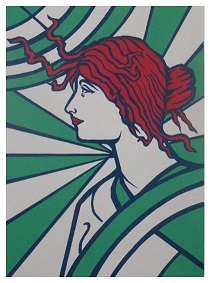 August 8, 2014
Students from Harper College art classes are taking their work off campus and into the Chicago art community. Margaret Buchen, Harper's Art Curator and instructor at the College, is curating an exhibit of work created by students at Chicago's Uptown Arts Center.
Seven students from Buchen's Printmaking Studio and Professor Perry Pollock's Painting class have work represented in the exhibit, which ranges from painting and photography to screen print and monotype, both printmaking processes that allow for exploration of many layers of rich color.
"We have such talented artists here at Harper, so it's exciting for me to introduce their work to the Chicago community," Buchen said.
The exhibition runs from 1 to 4 p.m. Sundays through August 24 at the Uptown Arts Center in the Preston Bradley Center, 941 W. Lawrence Ave., 4th floor, Chicago. Free street parking is available.
According to the website, "The range of work showcases a high level of commitment to innovation."
The Harper College Art Department curriculum provides the transfer student with a comprehensive program equivalent to the first two years of most four-year college art programs. It also serves an important role for many visual career programs and for the general college student.
For more information on the Uptown Arts Center exhibition, visit prestonbradley.org.
Media contact: Kim Pohl, Media Relations Manager, 847.925.6159.
Photo caption:Harper College student Chris Dwyer's screen print, Translocated Images, is part of the new exhibit at the Uptown Arts Center in Chicago.