Harper to host Chicago-area movie premiere
Harper to host Chicago-area movie premiere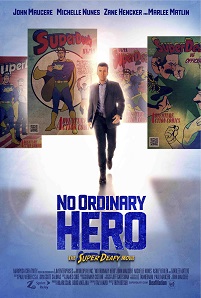 August 12, 2014
The Kimball Hill Family Deaf Institute at Harper College is widely recognized as the standard in higher education. So it's fitting that the creators of "No Ordinary Hero: The SuperDeafy Movie" were on board with holding the film's Chicago-area premiere on the Palatine campus.
Harper will host two screenings of the independent, feature-length film at 3 p.m. and 7:30 p.m. Saturday, August 23, at the College's Building J Theater, 1200 W. Algonquin Road. Live Q&A sessions will follow with Executive Producers Liz Tannebaum and Paul Maucere.
"Harper is well-regarded as a central point in Chicagoland for deaf culture," said Scott Friedman, director of Disability Services. "Continuing to find avenues that showcase it is very important, and this is a movie that knocks down some stereotypes and appeals to a lot of different folks."
"No Ordinary Hero" counts Academy Award winner Marlee Matlin among its stars. The family drama centers around about a deaf actor who plays a superhero on television and looks beyond his cape to influence a deaf boy to redefine what "being normal" really means. During his journey, he also finds inspiration to transform himself.
According to the Heartland Film Festival in Indianapolis, which welcomes more than 100 independent filmmakers from all over the world, "No Ordinary Hero" marks the first time in cinematic history that a Screen Actors Guild commercial feature was executive produced exclusively by deaf executive producers and directed by a deaf director.
The film premiered at Heartland in 2013 and continues to be screened at select movie theaters and schools across the country.
Jason Altmann, Deaf Institute and Accommodations manager at the College, said the Harper screening will be open captioned and the Q&A sessions will be interpreted for individuals who don't sign.
"Hosting these movie screenings is a golden opportunity for us to showcase talented deaf actors and producers in our community," Altmann said.
Admission is $10. All proceeds will benefit student scholarships at the Kimball Hill Family Deaf Institute, which was started in 1973 and serves dozens of deaf and hard-of-hearing students from across Illinois and beyond. The Institute features a smart classroom as well as access services and support such as captioning, assistive listening devices and instruction and advising in American Sign Language. It is a collaboration between Harper College, the Department of Rehabilitation Services and private donors.
For more information about the movie screening, visit harpercollege.edu/deafinstitute or call the Box Office at 847.925.6100. Watch the movie trailer here: vimeo.com/94560834.