Student spends summer interning at Fermilab
Student spends summer interning at Fermilab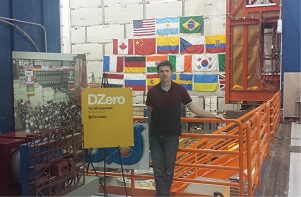 August 20, 2014
Not every college student can boast he knows his way around a particle accelerator. Thanks to an internship at Fermilab in Batavia, Harper College student Eric Meyers can say exactly that.
Currently wrapping up his 10-week Fermilab internship, Barrington resident Meyers is getting hands-on experience that extends beyond what he has learned in his classes at Harper.
"It's an excellent opportunity to learn about new things, while at the same time gain work experience in an environment like Fermilab," Meyers said.
As part of his internship, Meyers has been working on disassembling one of Fermilab's particle detectors so that the equipment can be repurposed in future experiments throughout the lab. In addition to his daily work, he's getting a crash course in modern-day physics topics with regular tours and weekly guest speakers from the field who come to Fermilab to speak on topics ranging from neutrino oscillation to the basics of mechanical engineering.
"I really enjoy the atmosphere surrounding the workplace at Fermilab," Meyers said, "because every employee is willing to help out and teach you something. They really emphasize a 'no question is a bad question' mentality."
Meyers is planning to transfer to the University of Illinois at Urbana-Champaign in the fall, where he will major in computer engineering. In 2012, Meyers was one of a team of Harper students building a reusable rocket for a NASA-sponsored competition in Huntsville, Ala.
He credits Harper professors Maggie Geppert and Ron Meyer with preparing him for the internship, both in giving him the information necessary to perform his duties as well as getting him used to the workload.
The College's Job Placement Resource Center also played an active role in helping Meyers with the application process, Meyers said. With the help of Workforce Coordinator Theresa Sellers, he spent about three months putting together his application for the internship, which included writing a series of essays and collecting letters of recommendation from his professors.
The College's new Job Placement Resource Center supports Harper students in preparing for an internship or co-op to apply their coursework in a workplace setting.
A recent CBS News study showed that college graduates with an internship on their resume are 12 percent more likely to be hired for a job and earn up to $7,000 more annually than graduates with no internship. Students can learn more information about the Job Placement Resource Center by contacting 847.925.6400 or visiting harpercollege.edu/jprc.
Press contact: Kim Pohl, Media Relations Manager, 847.925.6159.