"Atlanta Trilogy" to wrap up with final play
"Atlanta Trilogy" to wrap up with final play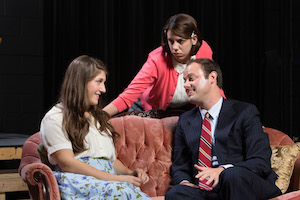 August 27, 2014
The Harper College Theatre Department will complete its staging of playwright Alfred Uhry's "Atlanta Trilogy" with a production of the Pulitzer Prize-winning "The Last Night of Ballyhoo." Set in 1939 Atlanta, the comedy follows a wealthy Jewish family who experience prejudice and anti-Semitism among their largely Christian community. "Ballyhoo" was the winner of the 1997 Tony Award for Best Play and received a Pulitzer Prize for Drama nomination.
The play will run August 29 through September 7 in the Drama Lab Theatre, Building L, Room L109 on the College's main campus, 1200 W. Algonquin Road in Palatine. Performances are at 8 p.m. Fridays and Saturdays and 2 p.m. Sundays.
This is Harper College Theatre Director Kevin Long's third and final production from Uhry's "Atlanta Trilogy," having staged both "Parade" and "Driving Miss Daisy" in 2013. Uhry appeared on campus in June for a public discussion about his work.
"It's been a supreme honor to direct this complete trilogy," Long said. "Little did I know that when I directed "Parade" in March 2013 that it would win the BroadwayWorld Chicago award for Best Revival of a Musical, Resident non-Equity theatre, that I would be nominated for best director and that my set designer Ashley Woods would be nominated for best set design. Then to direct the next two plays and have Alfred Uhry actually visit me? Absolutely amazing."
A special pre-show conversation with director Long and Harper College English Professor Richard Middleton-Kaplan, a special advisor on the play, will take place at 1 p.m. prior to the matinee performances on August 21 and September 7. Complimentary coffee will be served at these free events.
Tickets for the play are $15, available through the box office at 847.925.6100 or at harpercollege.edu/boxoffice.
Media contact: Kim Pohl, Media Relations Manager, 847.925.6159