Laura Brown named new Chief Advancement Officer
Laura Brown named new Chief Advancement Officer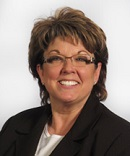 September 2, 2014
The Harper College Board of Trustees has approved hiring Laura Brown as the College's new Chief Advancement Officer and Executive Director of the Harper College Educational Foundation. Brown most recently served as Vice President at McHenry County College.
In her new role at Harper, Brown will oversee all aspects of the College's public and private sector fundraising and alumni programs. Last year, the Harper College Educational Foundation distributed scholarships, grants and awards totaling more than $444,000.
"The Foundation plays a vital role in ensuring finances are not a barrier to student success at Harper," Harper College President Dr. Ken Ender said. "Laura Brown not only has a stellar record of successful fundraising, but also a passion for higher education and its role of transforming lives."
While at McHenry County College, Brown provided strategic, college-wide leadership for the institutional advancement areas including development and private fundraising, grants, governmental relations, marketing and communications, institutional research, planning, institutional effectiveness and external relations.
Brown is a familiar figure at Harper, where she served as Director of Annual Giving and Alumni between 2010 and 2011.
"Laura Brown knows the Northwest suburbs and she's familiar with Harper, the Foundation and its mission," said Kathleen Gilmer, who recently began a two-year term as president of the Harper College Educational Foundation Board. "In addition to the invaluable experiences she's had, she brings enthusiasm, a vision about what we can become and an appreciation for what we've done in the past."
Prior to her career in higher education, Brown served for five years as executive director of Buehler YMCA in Palatine. She's also a partner at a philanthropic management consulting company that provides strategic support to small- and medium-sized nonprofit organizations.
"I know this community, and I know it's made up of philanthropic people who truly care," Brown said. "I look forward to building on Harper's rich tradition of community partnerships to help our students succeed."
Brown earned a bachelor's degree from St. Francis University in Joliet and is currently pursuing a Master of Business Administration, also from St. Francis University.
Brown replaces Dr. Mary Knight, who recently relocated to California.
Press contact: Kim Pohl, Media Relations Manager, 847.925.6159