The sky, up close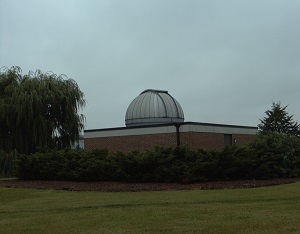 September 3, 2014
Summer may be winding down, but Harper College is still offering front-row seats for some blockbuster celestial shows.
Through mid-November, the College will host close-up viewings of the night sky at the Karl G. Henize Observatory on the main campus, 1200 W. Algonquin Road in Palatine.
The viewings, which take place from 7:30 to 9:30 p.m. on select Saturdays, allow visitors to stargaze through Harper's large main telescope in the observatory dome or view the cosmos through other telescopes arranged by observatory staff and astronomy club volunteers nearby. Volunteers also will be on hand to help interpret the sights.
Viewings, which are free and open to the community, are scheduled for Sept. 6, Sept. 20, Oct. 4, Oct. 18, Nov. 1 and Nov. 15.
The Observatory (Building O) is located on the north side of campus near parking lot 8. It will not be open in the rain or inclement weather.
For more information, visit harpercollege.edu.
Press contact: Kim Pohl, Media Relations Manager, 847.925.6159.