Annual Hullabaloo to draw thousands
Hullabaloo slated for Tuesday
September 8, 2014
One of Harper College's longest-standing traditions is Hullabaloo, an annual back-to-class expo for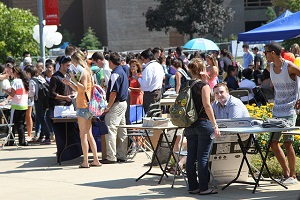 students. This year's event will be the biggest yet, with more than 70 Harper clubs, organizations and departments represented in an effort to further boost on-campus student involvement.
Hullabaloo will take place from 11 a.m. to 1 p.m. Tuesday, September 9, in the Quad (outside Buildings D, F and L) on the College's main campus, 1200 W. Algonquin Road in Palatine. In case of rain, the event will move indoors to Building A, Room A236.
Hullabaloo is sponsored in part by the Student Activities Board, whose focus this year is global citizenship and exposing students to various cultural customs. With that in mind, Hullabaloo will also feature artist Mervin Papa, who does calligraphy using Hawaiian-style lettering, as well as the 5411 Empanadas food truck.
Harper's radio station, WHCM, will do a live remote broadcast and there will be performances by the Harper pom/dance team and Ember Oceans, a band of new Harper students that has performed at the House of Blues.
Media contact: Kim Pohl, Media Relations Manager, 847.925.6159