StringFusion to put on performance
StringFusion to put on performance
September 15, 2014
With former Cirque du Soleil electric violinist and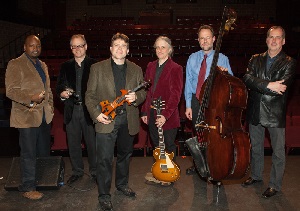 Harper College faculty member Edgar Gabriel at the helm, StringFusion is a dynamic ensemble that delivers an intelligent, entertaining performance of jazz fused with rock, classical, fiddle and world music.
The group will perform at 7:30 p.m. Friday, Sept. 19, at the Performing Arts Center on the College's main campus, 1200 W. Algonquin Road in Palatine.
StringFusion includes Scott Mason on bass, Kevin O'Connell on keyboards, Ben Johnson on drums and Gabriel on electric violin. The group will perform original material as well as music from Jean Luc Ponty, George Gershwin, Antonio Vivaldi, John McLaughlin, the Allman Brothers, Charlie Parker and more.
The eclectic and popular Chicago group often plays to sold-out houses, and Gabriel has worked with some of the greatest musicians in the world including Robert Plant and Jimmy Page, Daniel Barenboim, Andrea Bocelli, Ray Charles, the Flock and Cheap Trick.
For more information about the group, visit stringfusion.com. The performance is part of Harper's Faculty Artist Series, which will take place throughout the year. Admission is $7 to $10 and free for children 12 and under.
For tickets, visit harpercollege.edu/boxoffice or call the Harper College Box Office at 847.925.6100.
Media contact: Kim Pohl, Media Relations Manager, 847.925.6159.