New Student Trustee sworn in
New Student Trustee sworn in
September 18, 2014
Between a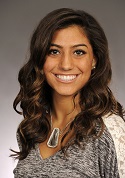 full class load, the cross country and track teams, volunteering and a leadership role in student government, Marisa Andreuccetti has become pretty adept at time management.
So, despite her already full schedule, Andreuccetti didn't hesitate to step in as Harper College's new Student Trustee. The 20-year-old Elk Grove Village resident was formally sworn in at the Board of Trustees' August meeting.
"I was interested in becoming part of the board because I wanted to understand the trustees' way of maintaining a successful educational institution," Andreuccetti said. "I'm intrigued how the board members invest their time, skills and knowledge to help advance the Harper community."
Andreuccetti succeeds Colin Weber, who's continuing his academic and athletic pursuits at the University of New Haven.
Andreuccetti, a graduate of Conant High School, previously served as secretary of the Student Government Association at Harper and actively volunteers at Casa Italia, the Italian Cultural Center in Stone Park. She was also MVP of Harper's 2013 women's cross country team and named an Academic All-American.
Andreuccetti, who will graduate from Harper in May, plans on transferring to a four-year institution to study secondary education in physics and minor in business. She also hopes to complete in cross country and track wherever she transfers.
In the meantime, she's excited to bring a student's perspective to her new role on the board.
"I look forward to becoming part of the team and contributing," she said.
The one-year Student Trustee position carries an advisory vote.
Media contact: Kim Pohl, Media Relations Manager, 847.925.6159