Music professor honored, will perform concert
Music professor honored, will perform concert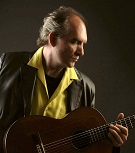 September 22, 2014
An adjunct faculty member at Harper College has been tapped as one of "15 Noteworthy Art Professors in Chicago" by the Art Career Project.
Peter Aglinskas, who's been teaching in the Harper music department for the past 14 years, joins professors from institutions such as Northwestern, University of Chicago, Loyola University and DePaul University. The distinguished group represents fields including art history, graphics, industrial design, journalism and theater.
The Art Career Project, which created similar lists for Boston and Los Angeles, serves as a comprehensive web resource for aspiring artists through profiles of hundreds of careers and top art programs across the country. The new list aims to "highlight the work of some of the best professors in the area."
Aglinskas, the only community college faculty member to be recognized, was noted for his reputation in Chicago's musical circles.
"He has composed, produced, and recorded everything from operatic music to funk music and also rock music; and he has written countless scores for theater and has even been nominated twice for the Joseph Jefferson Award in the category of Best Original Musical Score," the Art Career Project noted.
Aglinskas also has been a composer and guitarist in a number of local musical ensembles. He's currently working on third CD of solo guitar arrangements. At Harper, he teaches music appreciation, classical guitar, jazz guitar and crime jazz, a course he created.
The Art Career Project said students refer to Aglinskas as personable, patient, kind and a "musical genius."
"It is truly an honor to share such rarified air with the distinguished colleagues included in this list, some of whom I know personally, others by reputation," Aglinskas said.
Aglinskas will perform a solo concert at 7:30 p.m. Tuesday, Sept. 23, at the Performing Arts Center on the College's main campus, 1200 W. Algonquin Road in Palatine. The performance will feature fingerstyle guitar arrangements of popular, classical and world music. The cost is $7 to $10 and free for children 12 and under.
For tickets, call 847.925.6100 or visit harpercollege.edu/boxoffice.
Media contact: Kim Pohl, Media Relations Manager, 847.925.6159