Faculty Fellows Program to increase workplace diversity
Faculty Fellows Program to increase workplace diversity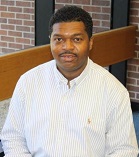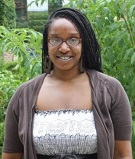 September 26, 2014
In recent years, the Northwest suburbs have seen a dramatic shift in demographics. The white population in Harper College's district, for example, decreased by nearly 45,000 people between 2000 and 2010 while a recent study showed the overall population likely will continue to become more diverse in age, race, ethnicity, primary language spoken in the home and birthplace.
To better serve the changing student body, Harper launched the Faculty Fellows Program and welcomed its inaugural cohort this semester. The initiative aims to have a workforce that more closely resembles the racial and ethnic makeup of the community.
New Faculty Fellows Oubria Tronshaw and Darnell Windmon both recently graduated from Chicago State University – Tronshaw with a Master of Fine Arts in Creative Writing and Windmon a Master of Science in Mathematics.
Michelé Robinson, Special Assistant to the President for Diversity and Inclusion/Assistant Provost, said the program is the result of the recommendations that came out of the College's diversity and inclusion taskforce.
Harper approached Chicago State, an institution that serves a predominantly African-American population, in search of graduate students who may not have a ton of teaching experience but show a great deal of promise. She said the program will help diversify the campus in both the short term and long term, and also allow Harper to create a more welcoming environment based on feedback from the fellows.
"This will give us a different lens of who we are as an institution," Robinson said. "Creating a workplace that is inclusive and welcoming to all needs to be a focus."
Supporting the fellows will be key to the program's success.
During the fall semester, Tronshaw, who will teach English, and Windmon, who will teach math, won't carry a full load so they can focus on a structured and holistic professional development plan. They each have content coaches as well as mentors who belong to Harper's DREAM (Diverse Relationships Engaged in Affirming Multiculturalism) Association.
Otherwise, they're considered faculty and expected to attend meetings, observe other classrooms, hold office hours and take part in evaluations. Their workload will ramp up next semester. The program may include a second year at Harper.
"Giving someone a chance to get this kind of professional experience is life-changing," Tronshaw said. "I think it's important to have a learning environment that somewhat reflects the real world. Harper is clearly making an investment in its teachers."
Harper plans to scale up and expand the program to institutions across the U.S. Robinson said the demographics of the community that Harper serves are rapidly changing, and that Harper has a responsibility to meet those changing needs.
Tronshaw and Windmon, who say they're in awe of what they've seen so far at Harper, support the initiative.
"Diversity is healthy because it creates unity and understanding instead of division and dissension," Windmon said. "When the demographics of a community college district change, I think a progressive institution should promote a faculty environment that reflects those changes. This is a great effort on Harper's part."
Media contact: Kim Pohl, Media Relations Manager, 847.925.6159