Majors in Minutes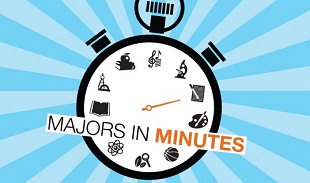 September 29, 2014
Research shows students who declare a major are more likely to graduate and incur less debt. That's the idea behind Harper College's first Majors in Minutes, a speed dating-style event for the undecided student.
Undeclared students will get the opportunity to quickly explore 40-plus majors by moving from table to table and talking candidly with other students and recent alumni. Every five minutes, a gong will sound indicating it's time to move on, though students are welcome to stay at a table and continue the conversation. Advisors and faculty will also be on-hand.
"Numerous studies show that declaring a major plays a significant role in student success," said Angela Bowling, one of the organizers of the pilot program. "Students can learn all about what you study in a particular major, the jobs and careers available, the challenges, the skills needed and what campus organizations to get involved in."
Majors in Minutes will take place from 11 a.m. to 1 p.m. Tuesday, Sept. 30, in the Wojcik Conference Center on the College's main campus, 1200 W. Algonquin Road in Palatine.
Students will also enjoy free food, drinks and giveaways, along with a chance to win raffle prizes including a free three-credit course, a Kindle Fire and gift cards.
The event is being put on by a group of staff and faculty who took part in the Harper Leadership Institute, a yearlong program designed to enhance professional effectiveness and provide a pathway for future leadership opportunities.
Media contact: Kim Pohl, Media Relations Manager, 847.925.6159