"Girls of Atomic City" author to visit Harper
"Girls of Atomic City" author to visit Harper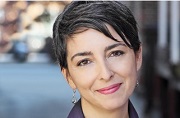 October 6, 2014
Oak Ridge, Tenn., consumed more electricity than New York City at the height of World War II, and yet, to most of the world, the town did not exist. Thousands of civilians – many young women from small towns across the South – were recruited to this secret city, enticed by solid wages and the promise of work that would end the war.
But few knew the true nature of the tasks they performed until the end of the war. The men and women had unknowingly been working on the Manhattan Project, the top-secret research and development program that produced the first atomic bombs.
In "The Girls of Atomic City: The Untold Story of the Women who Helped Win World War II," author Denise Kiernan draws on the voices of the women – now in their 80s and 90s – who lived it. She'll visit Harper College at 7 p.m. Tuesday, Oct. 7, at the Performing Arts Center on the College's main campus, 1200 W. Algonquin Road in Palatine.
Kiernan's appearance, which will feature a lecture and discussion followed by a book signing in the lobby, is one of the events highlighting One Book, One Harper, a reading initiative that encourages the community to read the same book and take part in a variety of related academic, cultural and social activities. This year's book is "The Greatest Generation" by Tom Brokaw.
"This is a fascinating story from the perspective of women who didn't wear a uniform in service to their country, but who played a critical role in how the war would end," Instructor Amy Kammerman said.
Kiernan will discuss the stories she uncovered and answer questions. "The Girls of Atomic City" is a New York Times, Los Angeles Times and NPR bestseller and was named one of Amazon's 2013 Top 100 Best Books. In addition to being published in the New York Times, Wall Street Journal, Discover and more, Kiernan has written and produced for TV and been a featured guest on NPR's "Weekend Edition," "PBS NewsHour," "Morning Joe" on MSNBC and "The Daily Show with Jon Stewart." Stewart described Kiernan's book as "a phenomenal story."
The lecture is free, but tickets are required. Learn more about the book in this video: https://youtu.be/mKYxj6n4xho. For tickets, contact the Box Office at 847.925.6100.
Press contact: Kim Pohl, Media Relations Manager, 847.925.6159