Exhibit to feature comics artists
Exhibit to feature comics artists
October 10, 2014
Comics and graphic novels don't make for just popular reading; they've sparked a fascination in both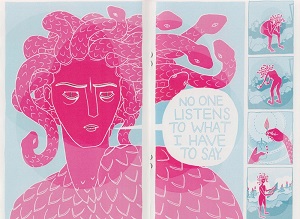 the academic and art worlds.
Three innovative cartoonists with Chicago connections and visionary tendencies will highlight Harper College's latest art exhibit, "Like Comics Without Panels," running Monday, Oct. 13, through Thursday, Nov. 13.
The exhibit will bring together John Porcellino ("Hospital Suite," "King-Cat Comics"), Marnie Galloway ("Medusa," "In the Sound and Seas") and Edie Fake ("Gaylord Phoenix," "Memory Palaces"), each well-known and highly regarded in the Chicago comics community.
Curating the exhibit are Associate Professor of English Brian Cremins and Associate Professor of Art Jason Peot. Cremins, a scholar in the subject, is writing a book about comics and nostalgia for the University Press of Mississippi and will co-teach the course "Batman and Beowulf" in the spring.
"All three are extremely cutting-edge artists and very forward looking," Cremins said. "Calling their work 'comics' is probably kind of limiting."
Harper's Art Exhibition Space is located in Building C, Room C200 on the College's main campus, 1200 W. Algonquin Road in Palatine. Hours are 8:30 a.m. to 4:30 p.m. weekdays.
Visitors won't encounter the superheroes and fantasy narratives that so many associate with comics. The three contemporary artists' work explores issues of place and identity, magic and memory. Some pieces stand on their own, others have a sequence that comprise a narrative.
"This is more literary and fine-arts based," Cremins said. "So if you're not really into graphic novels or comics, this could very well be the show for you. It will broaden your idea of what a comic or graphic novel is."
Porcellino, Galloway and Fake will be on campus at 12:45 p.m. Thursday, Oct. 30, for a panel discussion in the Drama Lab (Building L, Room L109). A reception in the exhibition space will follow. Both events are free and open to the public.
For more information on Harper's Art Exhibition Space, contact Karen Stoessel at 847.925.6568 or email kstoesse@harpercollege.edu.
Media contact: Kim Pohl, Media Relations Manager, 847.925.6159