View partial solar eclipse at Observatory
View partial solar eclipse at Observatory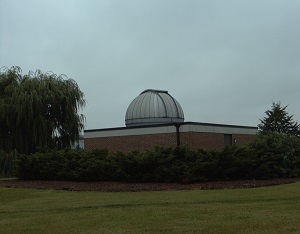 October 14, 2014
Coming on the heels of the "blood moon" lunar eclipse that graced the pre-dawn sky earlier this month, another celestial event will soon take place during daylight hours.
The Karl G. Henize Observatory at Harper College will host a free community viewing of the upcoming partial solar eclipse from 4 to 6 p.m. Thursday, Oct. 23.
The phenomenon takes place when the moon passes between Earth and the sun, casting a shadow on Earth. The Oct. 23 eclipse will be widely visible throughout the U.S. and Canada. According to NASA, the next solar eclipse visible from the U.S. will take place in August 2017.
"We don't get many solar eclipses that are visible in the Chicago area, so they're always exciting," Astronomy Outreach Coordinator Joe Kabbes said.
Filters will be fitted over the telescopes to ensure a safe viewing environment. New this year is a display showing the vastness of the solar system. It stretches from the Observatory to Roselle Road, and guides will lead tours. The solar system is 10 billion times the size of the model, Kabbes said.
The Observatory will hold its final open observing sessions of 2014 from 7:30 to 9:30 p.m. Saturday, Nov. 1, and Saturday, Nov. 15. The building is equipped with a Meade 14-inch Schmidt-Cassegrain telescope, allowing Harper faculty to do research.
The Observatory is located at the northeast corner of the College's main campus, 1200 W. Algonquin Road in Palatine. For more information about the Observatory and a list of tips for visitors, go to harpercollege.edu and search Observatory.
Media contact: Kim Pohl, Media Relations Manager, 847.925.6159