Healing Through Art Therapy
Healing Through Art Therapy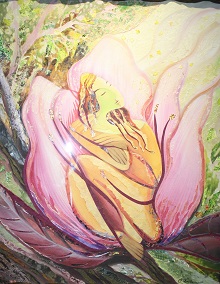 October 24, 2014
Catherine Clarke had broken free from an abusive relationship, but found herself without a degree and dependent on a food pantry and church to help support her four children. To start her path toward independence, she turned to the Rita and John Canning Women's Program at Harper College. To begin healing, she turned to art.
Now, Clarke, who this fall began a master's degree program in art therapy at the prestigious School of the Art Institute of Chicago, is using her artwork to share her deeply personal journey beyond the experience of domestic violence.
The exhibit, "After the Jump: Healing Through Art Therapy," opened this week at Harper College and will run through Monday, Nov. 3.
"I've always believed the creative process has therapeutic value, and this has been my way of working through the healing process," Clarke said. "It's not showing the domestic violence; this is about moving forward, what to do next."
The exhibit features 11 pieces accompanied by Clarke's commentary. It's located in the upper hallway of Building P on the College's main campus, 1200 W. Algonquin Road in Palatine.
Many of the pieces feature a mixed media collage technique that incorporated items from Clarke's life, such as an order of protection a judge granted against her abuser.
"By cutting these things apart and reconfiguring them, it allowed me to take control and reconstruct my past into something beautiful," Clarke said. "You can't be a victim when you take control over your experiences."
Organized by Associate Professor of Art Jason Peot, the exhibit coincides with Domestic Violence Awareness Month in October. One of the pieces, "Jump," is a print of the painting Clarke presented Rita and John Canning at a reception recognizing their $1 million gift to the Women's Program earlier this year.
Media contact: Kim Pohl, Media Relations Manager, 847.925.6159