One Book, One Harper film screening
One Book, One Harper film screening
November 7, 2014
Harper College will show a free screening of "Hail the Conquering Hero," the latest event highlighting the One Book, One Harper reading initiative.
The 1944 film starring Eddie Bracken, Ella Raines and William Demarest will begin at 3 p.m. Wednesday, Nov. 12, in Building A, Room A243, on the College's main campus, 1200 W. Algonquin Road in Palatine.
O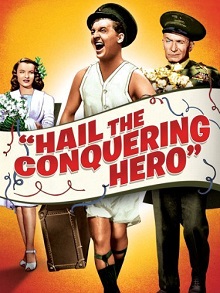 ne Book, One Harper encourages the community to read the same book and take part in a variety of related academic, cultural and social activities. This year's book is "The Greatest Generation" by Tom Brokaw.
"Hail the Conquering Hero" is a satire about a small-town boy (Eddie Bracken) whose father died a hero in World War I. Bracken is the first to sign up to serve in World War II, but a bout of hay fever gets him discharged. He hasn't the nerve to tell his mother, so a group of good-hearted Marines help him save face by accompanying him home and pretending Bracken served valiantly in the Pacific. Of course, the seemingly harmless deception escalates.
The movie was nominated for a 1945 Academic Award in the best original screenplay category, and The New York Times named it one of the ten best films of the year.
For more information about One Book, One Harper, visit harpercollege.edu/library.
Media contact: Kim Pohl, Media Relations Manager, 847.925.6159