Native Pride Dancers to put on free performance
Native Pride Dancers to put on free performance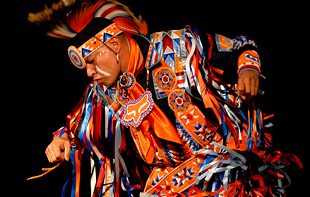 November 14, 2014
The Native Pride Dancers travel the globe celebrating the spirit and beauty of indigenous people. From the Ojibwe and Dakota tribes to the Meskwaki and Lakota Nations and beyond, the group sets out to honor the uniqueness and history of each.
The dancers will visit Harper College for a free performance from 11 a.m. to 1:30 p.m. Wednesday, Nov. 19, in the Student Center Lounge in Building A on the College's main campus, 1200 W. Algonquin Road in Palatine. The performance coincides with Native American Indian Heritage Month.
Formed in 2003, the Native Pride Dancers educate and entertain audiences of all ages with the beauty, skill and majesty of American Indian music and dance. They perform in traditional costumes, using music, dance and storytelling that reflect the culture and customs passed down from generation to generation. Each performance also includes a question and answer session and photo opportunities.
The Native Pride Dancers have been featured at the Macy's Thanksgiving Day Parade, and all the dancers have been champions of various National Powwow competitions. Their mission is to educate, inspire, motivate and empower diverse communities to bridge the cultural gaps through Indigenous traditions.
Watch a video of the Native Pride Dancers performing at the Kennedy Center in Washington, D.C.. For more information, call the Office of Student Involvement at 847.925.6242.
Media contact: Kim Pohl, Media Relations Manager, 847.925.6159