Stage production of "Fiddler on the Roof" opens
Stage production of "Fiddler on the Roof" opens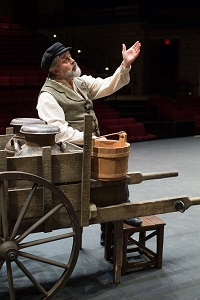 November 14, 2014
Half a century after its Broadway debut, Harper College will stage the classic musical "Fiddler on the Roof."
The winner of nine Tony Awards, "Fiddler" tells the story of Tevye, a Jewish father attempting to hold on to religious traditions while his daughters embrace change. The play takes place in Tevye's little Jewish village of Anatevka in 19th century Tsarist Russia.
"With this year marking the 50th anniversary of the show, I thought it would be a good time to visit this classic musical again," said Harper College Theatre Director Kevin Long. "Our fiddler on the roof is trying to balance tradition with a constantly changing world. It sounds exactly like the world today."
The show will run Friday, Nov. 14, through Sunday, Nov. 23, in the Performing Arts Center on the College's main campus, 1200 W. Algonquin Road in Palatine. Performances are held at 8 p.m. Fridays and Saturdays, and at 2 p.m. Sundays.
The Nov. 14 show will be sign-interpreted for the deaf and hard of hearing.
With Tevye's comical observations and a rousing, heartwarming score that includes "If I Were a Rich Man," "Sabbath Prayer" and "Sunrise, Sunset," the classic musical delivers a humorous yet poignant story about the enduring bonds of family, love and tradition.
To learn more about the play, its setting and history, Long and Professor Richard Middleton-Kaplan will lead a free, pre-show Coffee with the Director event at 1 p.m. Sunday, Nov. 16, and Sunday, Nov. 23, in the Performing Arts Center lobby. Middleton-Kaplan served as dramaturg, a position that works to ensure the production is historically and culturally accurate.
"At its core, 'Fidder' is about finding a way to adapt in a changing world without losing the essence of who we are, our heritage, our beliefs," Long said. "Change can paralyze us with fear. Yet, like the people of Anatevka, every culture and generation must evolve and embrace new ideas as the world changes."
Tickets to "Fiddler" are $12 for seniors and Harper students, faculty and staff. General admission tickets are $15. Contact the Box Office at 847.925.6100 or harpercollege.edu/boxoffice.
Media contact: Kim Pohl, Media Relations Manager, 847.925.6159