Hundreds expected at 13th annual Latino Summit
Hundreds expected at 13th annual Latino Summit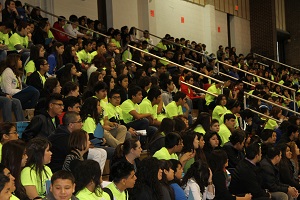 November 19, 2014
Each year before Harper College's annual Latino Summit, attendees are given a survey to gage their thoughts about heading down a path toward higher education.
Many responses are pessimistic or, at best, apathetic: I'm not going to college. College isn't for me.
After the event, however, the same survey questions produce a far different tone.
"It's a completely different story at that point," said Juanita Bassler, a recruiting specialist at Harper and one of the event organizers. "They talk about their potential, their abilities and the opportunities they've had their eyes opened to."
Harper's Latino Summit is an all-day event focusing on the importance of sticking with school amid the reality that Latino students seek out college less frequently than their peers. The 13th annual gathering is expected to draw about 450 Latino teens from school districts 207, 211, 214 and 220. It takes place from 8:30 a.m. to 2 p.m. Friday, Nov. 21, on the College's main campus in Palatine.
The day will begin with opening ceremonies and keynote speaker Ernesto Mejia, the proud son of Mexican immigrants and a true example of the American dream. After dropping out of college, he eventually decided to take school seriously, taking on two jobs and a full course load to finish his degree.
Afterward, Mejia earned his master's and climbed the administrative ranks at several colleges before pursuing his own personal dream of motivating young people to enroll in college. He now tours the country speaking about the importance of finding the strength and confidence to reach one's potential, even in the wake of racism and prejudice he knows are alive and well.
Several scholarships totaling $15,000 will be presented to graduating seniors who attended the Latino Summit as freshmen and sophomores. Attendees also will break into groups led by about 50 Latino professionals and 40 college students from the area who believe in the event's mission.
"The professionals discuss the obstacles they've faced and the positive influences in their lives," Bassler said. "Their perspective is crucial for these students, many of whom are the first in their family to even consider going to college and don't know about what it takes or why it's so important."
Media contact: Kim Pohl, Media Relations Manager, 847.925.6159