Cupcake battle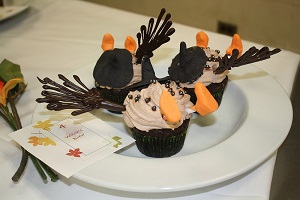 November 19, 2014
Two Harper College baking students are on a mission: Come up with a delectable cupcake that will garner the most votes in a head-to-head taste-off against Elgin Community College.
The twist? Make that cupcake using Splenda sugar substitute.
Instructor Pili Rios said her students think they've got the winning recipes to present at the Hoffman Estate Chamber of Commerce and Industry's Food Tasting Festival on Thursday, Nov. 20. The event, which is open to the public, takes place from 5 to 8 p.m. at the Stonegate Banquet and Conference Centre, 2401 W. Higgins Road.
Hoffman Estates Mayor Bill McLeod and others have already attended preliminary tastings to whittle down several creations to two entries from each school. One of Harper's cupcakes, the "Java Jack," will bring together mocha and pumpkin, while the "Taffy Apple" will feature a mini taffy apple on top of an apple-flavored cake. Each candidate will bake 400 mini cupcakes for the festival.
Sponsored by Hoffman Estates-based Tate & Lyle, the maker of Splenda, the challenge awards the winner $1,000 and the runner up $500. ECC has taken first place at the first two years of the competition, so Harper's bakers hope third time's a charm.
"It's a fun challenge to replace at least half the sweetener with Splenda," Rios said. "There's a lot of trial and error involved, so luckily we were given a lot of Splenda to practice with."
The chamber's annual Food Tasting Festival will feature samples of food and spirits from more than 20 restaurants and grocers serving Hoffman Estates. Tickets are $25 in advance and $35 at the door. For more information, visit hechamber.com. To learn more about Harper's culinary and bread and pastry arts programs, visit harpercollege.edu.
Media contact: Kim Pohl, Media Relations Manager, 847.925.6159