Ethics Bowl team earns berth to national competition
Ethics Bowl team earns berth to national competition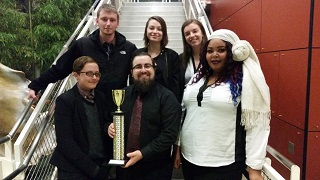 November 25, 2014
Should states prohibit smoking in a car with children despite the potential infringements on personal freedoms? Does a neighbor have the right to steal a pet that appears to be abused? Should a CEO's political views be grounds for his or her removal?
These cases, which stem from real-world news events, are just a few of the difficult questions that Harper College's Ethics Bowl team examined en route to a second-place finish at the Upper Midwest Regional Championship.
Harper's six-member team, which beat out more than 20 other teams from notable four-year colleges and universities such as the University of Michigan-Ann Arbor and the University of Wisconsin-Madison, qualified for the 19th Intercollegiate Ethics Bowl Competition and will travel to Costa Mesa, Calif., in February.
Harper hosted the regional competition on Nov. 15.
"This is a very talented and dedicated team," said Associate Professor John Garcia, who coaches Harper's team with Assistant Professor Brett Fulkerson-Smith. "It's hard to appreciate how difficult it is for two-year schools to succeed. We don't have the same students for four years who can meet in the dorms for hours on end."
Harper's team has enjoyed success in recent years, earning a berth to the national collegiate competition last year. The team also won the inaugural national competition for two-year colleges in 2013 and placed second there in 2014.
Team members prepare for competitions by reviewing case studies on a variety of in-the-news topics that beg philosophical debate, from plagiarism to paid maternity leave. They use the contests to take a stand on the issue, spelling out their reasoning before facing a panel of judges who probe them for further justification.
This year's Ethics Bowl team is comprised of Lauren Bell of Mount Prospect, Ali Longbottom of Barrington, Robert Moskwa of Arlington Heights, Justin Provo of Hoffman Estates, Ahyanee Stubberfield of Palatine and Eri Svenson of Schaumburg.
"A lot of intensive preparation went into this," Garcia said. "They should be proud of themselves."
Media contact: Kim Pohl, Media Relations Manager, 847.925.6159