Meet the man behind PostSecret
Meet the man behind PostSecret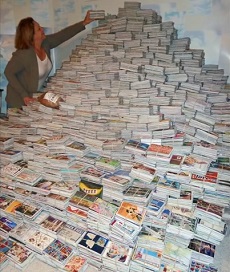 December 1, 2014
In 2004, Frank Warren handed out 3,000 self-addressed postcards around Washington, D.C., asking people to anonymously share highly personal and artful secrets they had never before told. He created a website to display the secrets we never voice, each week posting a select group.
To date, more than 500,000 secrets – they can be "shocking, or silly, or soulful," Warren says – have been mailed in from all over the world. The blog phenomenon postsecret.com has drawn more than 694 million hits and its Facebook page has 1.5 million likes.
Warren, a popular figure on the college campus circuit, will come to Harper College on Thursday, Dec. 4, to share stories and discuss how these postcards can have tremendous healing powers. Doors open at 6:30 p.m. at the Building J Theatre on the College's main campus, 1200 W. Algonquin Road in Palatine.
Secrets span from sexual taboos and criminal activity to confessions of secret beliefs, hidden acts of kindness, shocking habits and fears.
PostSecret has received numerous awards for having a positive impact on mental health issues. His book, "PostSecret Confessions on Life, Death and God" reached No. 1 on the New York Times' Best Sellers List, and his newest book, "The World of PostSecret," was released earlier this month. Forbes magazine named Warren the fourth influential person on the internet.
To learn more about the ongoing community art project, visit postsecret.com or watch Warren's Ted Talk at https://www.youtube.com/watch?v=c0H1zU2ytxA.
Warren's visit, sponsored by Harper's Student Activities Board, will include a book signing following his presentation. Tickets are $5 for the general public and free for Harper students and employees. Visit harpercollege.edu/boxoffice.
Media contact: Kim Pohl, Media Relations Manager, 847.925.6159