New Studio V to hold grand reopening
New Studio V to hold grand reopening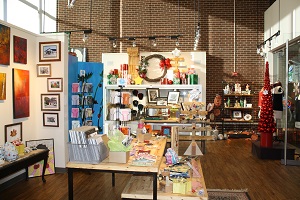 December 2, 2014
Studio V is winding down the year in a big way. The professional, student-run boutique at Harper College opened this month in a newly renovated – and far more visible – space on the east side of campus.
To celebrate, Studio V will hold a grand reopening event with refreshments and entertainment from 5 to 8 p.m. Thursday, Dec. 4. The new space is located across from the Building J Theatre.
Students in Harper's Fashion Merchandising program operate the boutique, which boasts a variety of handcrafted items made by Harper students, alumni, faculty, staff and community members alike.
Named Studio V in a nod to the five senses, customers are welcomed by a variety of colors, textures, music, flavors and aromas. The ever-evolving inventory features garments, jewelry, ceramics, paintings, photography, soaps and candles, printed cards and even wedding dresses.
Instructor Tom Tucker said the boutique serves as a teaching lab. Students played an integral role in the re-launch by helping to design the new space, refurbish displays and decide on the placement of merchandise. Studio V closed for several months to accommodate the relocation.
"It's been extremely beneficial for these students to have the opportunity to reimagine a space from the ground up," said Tucker, who added that the boutique has already seen a spike in both foot traffic and sales.
Regular store hours are 11 a.m. to 7 p.m. Tuesday through Thursday. Credit, debit and checks are accepted. For more information, call Studio V at 847.925.6163 or visit harpercollege.edu.
Media contact: Kim Pohl, Media Relations Manager, 847.925.6159