Holiday big band concert the latest One Book, One Harper event
Holiday big band concert the latest One Book, One Harper event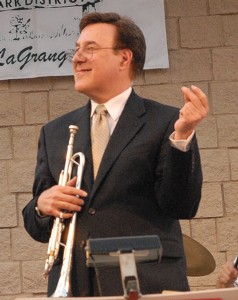 December 10, 2014
The One Book, One Harper community reading initiative's latest event will be a festive big band holiday performance, "A Swingin' Season with The Steve Cooper Orchestra."
Classics and holiday favorites will be featured during the free performance from 11 a.m. to 1 p.m. Thursday, Dec. 11, in the Student Center (Building A) on Harper College's main campus, 1200 W. Algonquin Road in Palatine.
A native of Chicago, bandleader Steve Cooper has played on "The Oprah Winfrey Show" and for private parties hosted by Julie Andrews, Mary Tyler Moore, Carol Channing, Frank Sinatra Jr., and the casts of TV shows "Frasier," "Cheers" and "Taxi." Cooper is also an arranger for bands across the country including the New York Philharmonic Orchestra.
One Book, One Harper encourages the community to read the same book and take part in a variety of related academic, cultural and social activities. This year's book is "The Greatest Generation" by Tom Brokaw.
The concert is free. For more information, call 847.925.6184.
Media contact: Kim Pohl, Media Relations Manager, 847.925.6159