Harper, area high school districts highlight partnership at White House Summit
Harper, area high school districts highlight partnership at White House Summit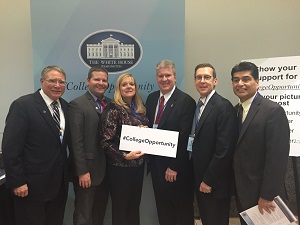 December 10, 2014
The innovative partnership between Harper College and its high school districts to get more students college and career ready was in the spotlight today at the White House College Opportunity Summit. The event focused on building sustainable K-12 and higher education partnerships to encourage more first-generation, low-income and minority students to attend and complete college.
Harper President Dr. Ken Ender, District 211 Superintendent Dr. Dan Cates, District 214 Superintendent Dr. David Schuler and District 220 Superintendent Dr. Brian Harris joined President Obama, the First Lady and Vice President Biden for the event at the Ronald Reagan Building. The summit featured other education, business and nonprofit leaders committed to helping the nation reach its goal of leading the world in college attainment.
In 2010, Harper and its high school districts partnered to launch the Northwest Educational Council for Student Success to align curriculum and testing, expand dual-credit opportunities and create career and academic pathways. As a result, high school students have earned hundreds of career certifications and completed several thousand dual-credit courses.
"We think we have a model worth emulating in communities across the country," Ender said. "There's a disconnect in the U.S. between K-12 and higher education, which creates obstacles for students at a time when postsecondary credentials are all but required for family sustaining wages. We need to find better ways to create college opportunities."
Additionally, the number of recent high school graduates placing into college-level math at Harper has risen from 45 percent to 67 percent. Research shows students who begin college in remedial courses are far less likely to earn a degree or certificate.
"Our staff works hard every day to ensure our curriculum is relevant beyond high school, so that our students leave our schools with college credit and credentials and internship experiences that inspire them to discover their passion and reach their full potential," Schuler said. "We're preparing students for futures we can't yet imagine, and we're so excited to share these initiatives and our promise to our students."
Thursday's summit aimed to build on the work from the first College Opportunity Summit held last January while also launching initiatives in new areas. At the inaugural event, Ender announced Harper's commitment to increasing its graduation rate and the number of students placing into credit math courses. Harper has exceeded both its targets. Harper is making three new commitments, as well, including scaling up the NECSS model through a national symposium and toolkit that will guide others.
Similarly, the high school districts are announcing their own commitments focused on curriculum, expanded scholarship opportunities and a new Power of 15 Program that provides a pathway for high school students to graduate with 15 college credit hours.
"High School District 211 is committed to providing our students with the necessary skills and rigorous courses to be successful in college," Cates said. "Whether it's through a Dual Credit course, or one of our Advanced Placement courses, District 211's efforts include continuously aligning and enriching our college-preparatory curriculum, as well as creating courses that will help students access and be successful in credit-bearing college courses."
Harris lauded the strides the partnership has made, saying "Barrington 220 is excited about the ongoing partnership with Harper College and our other local school districts to enhance the college readiness expectations for our students."
Media contact: Kim Pohl, Media Relations Manager, 847.925.6159