Santa Claus for Paws to help furry friends in need
Santa Claus for Paws to help furry friends in need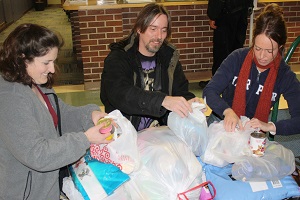 December 18, 2014
More than 10 years ago, Harper College Administrative Secretary Jennifer Pitek set out to help the furry felines in Illinois' animal rescues by launching Santa Claus for Paws. The annual pet food drive, later expanded to include canines, has netted thousands of pounds of donated food over the years.
Pitek and Harper instructor Jamie Leinss-Doyle are back at it this holiday season, seeking dry and canned food for puppies, dogs, kittens and cats, as well as beds and gently used linens for the adoptable pets.
Pitek said animal shelters are still bustling with animals and forced to do more with less.
"Many of the shelters are in dire need," Pitek said. "The rescues continue to be inundated with calls and the problem seems to be endless. Simple gestures by the community can make a big difference for these organizations."
Last year's Santa Claus for Paws yielded roughly 400 pounds of food and treats in addition to blankets, towels, collars, leashes, harnesses and clothes. But numbers were down from past efforts and the pair hope to reverse the trend.
"We're hoping to get more," Leinss-Doyle said.
Items will be accepted through Tuesday, Dec. 23, and again after Harper's campus reopens Friday, Jan. 2, through Friday, Jan. 16.
Donations will be sent to rescues including Cinderella's Hope Cat in West Dundee.
Community members will find the most convenient donation drop boxes located at the main entrances of both Building A and the Avanté Center on Harper's main campus, 1200 W. Algonquin Road in Palatine.
Items can also be taken to the Career Center (A347); Center for New Students (C104); Math Lab (Room D105); Career and Technical Programs (Room D191); Business and Social Science Division Office (Room J249); J Theatre Box Office; Liberal Arts Division Office (L203); first floor of Building X; Health Career Programs (X250); and Math and Science (Y103).
Press contact: Kim Pohl, Media Relations Manager, 847.925.6159