English professor places second at statewide poetry competition
English professor places second at statewide poetry competition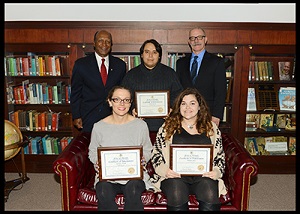 December 22, 2014
Harper College Associate Professor Jessica Walsh recently placed second in the 10th annual Illinois Emerging Writers Competition.
Secretary of State and State Librarian Jesse White awarded Walsh of Roselle and poets from Harrisburg and Chicago as this year's winners of the Gwendolyn Brooks Poetry Award.
"Receiving this honor is sustaining," said Walsh, who has taught English at Harper since 2002. "Poetry is often a very solitary undertaking, and to make a powerful connection with readers is the ultimate reward."
Walsh's poem, "The Library Again," is about her grandmother's last years with Alzheimer's disease and how her reading – of books and of people – changed. Read the poem at illinoiscenterforthebook.org.
Whittney Jones of Harrisburg won first place with her poem "The Dollar Value of Fingers" and Pablo Otavalo of Chicago placed third for his poem "The Year of the Dragon." All three winners read their poems during a ceremony at the Illinois State Library and received their awards from Secretary White and Illinois Poet Laureate Kevin Stein, who succeeded Gwendolyn Brooks in that position.
"I started the Illinois Emerging Writers Competition to promote creative writing and provide a unique opportunity for recognizing new literary talent in the state," White said in a statement. "Illinois has a long and rich literary heritage, and these poets are adding to the tradition established by legendary Illinois poets like Gwendolyn Brooks. Great poems have the ability to enrich and enhance our lives, and I'm pleased to congratulate this year's talented winners."
The winning poems will be submitted for possible publication in Ninth Letter, RHINO and Quiddity magazines and Poetic License Press.
Walsh's poetry has previously appeared in publications including "Driftwood," "The New Press Literary Quarterly" and "Listening Review." Her first poetry book, "Knocked Around," was published in 2008.
Press contact: Kim Pohl, Media Relations Manager, 847.925.6159