Forty years after demo, professor's band takes off
Forty years after demo, professor's band takes off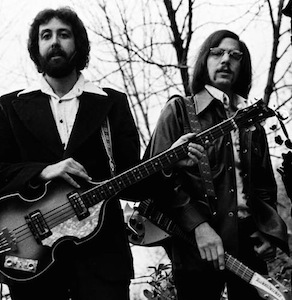 Harper College English professor Greg Herriges never expected his band Athanor to get a record deal. When that finally happened in 2013 – forty years after recording their first collection of demos – he assumed that was as far as the band could go.
"We figured that one album was it," Herriges said, "but then the reviews were so good that we went back to the vault to see what else we had, and we had plenty."
The success of Athanor's debut album "Flashback" led to a second contract with European label Guerssen Records and a whole new album, "Inside Out," due out this month. The band's second album collects 14 more archival demos recorded between 1973 and 1977, including the title track originally written for Dion DiMucci (of Dion and the Belmonts).
"The new album is more of a moody complete project than the first, because the first was all our attempts to get a single out," Herriges said. "This one was a darker reverie about young adulthood at a time when existentialism and counterculture rebellion was taking place. The presence of those are certainly apparent on the album."
Athanor, which consists of Herriges and his childhood friend Rick Vittenson, has been described as "Beatle'esque, fuzzed-out psychedelia and folk rock." The duo first recorded a series of demos in the early '70s, but their rock star dreams never quite took off. Though they continued to play music together, they gave up their hopes of a record contract. When several of their songs went viral in Europe in 2012, the band was contacted by Guerssen Records of Spain and signed to a deal to release their first album last year.
With a second album now under their belts, Herriges – who has taught at Harper for more than 20 years – said he's happy with Athanor's renaissance. In addition to promoting the new record, the band is currently working on an album of all new material.
"For a group that came to national attention because we were pirated by a British label, we've done all right," Herriges said.
"Inside Out" will be available on CD and 12 inch vinyl in July. Check out a track here.
Press contact: Kim Pohl, Media Relations Manager, 847.925.6159