New album features Jim Croce's 1973 concert at Harper
New album features Jim Croce's 1973 concert at Harper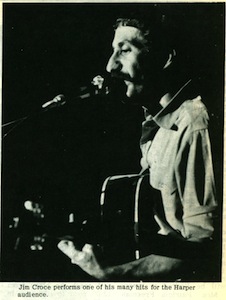 Harper College is at the heart of a new compilation of Jim Croce songs about to be released, nearly 41 years after the folk-rock singer-songwriter died in a plane crash.
Croce performed before a capacity crowd February 2, 1973, on the Palatine campus. Ten of those songs including "You Don't Mess with Jim" and "New York's Not My Home" appear on the new album, Lost Time in a Bottle. The 24-track album also features several demo recordings such as renditions of his classics "Bad, Bad Leroy Brown" and "Time in a Bottle." Los Angeles-based Cleopatra Records will release the album July 22 as a CD and digital download and later on vinyl.
The concert was described as a showcase of both Croce's musical talent and his comedy routines, according to an article that appeared in Harper's newspaper, The Harbinger. "In an interview before the concert, Croce said that 'college students are pretty sophisticated listeners,'" the singer told student reporters Mike Morey and Greg Fife.
Later that year, Croce died in a plane crash just an hour after wrapping up a concert at Northwestern State University in Louisiana. The next day, one of his most iconic singles – "I Got a Name" – was released. Five of Croce's songs landed in Billboard's Top 10.
Media note: Jim Croce's son is available for interviews. Musician A.J. Croce has performed as opening acts for artists including Carlos Santana, Aretha Franklin, Ben Harper and Ray Charles.
Photo courtesy of The Harbinger
Press contact: Kim Pohl, Media Relations Manager, 847.925.6159