IMA Education Foundation Presents Scholarship Award to Harper College
IMA Education Foundation Presents Scholarship Award to Harper College

Harper News

June 22, 2015

June 22, 2015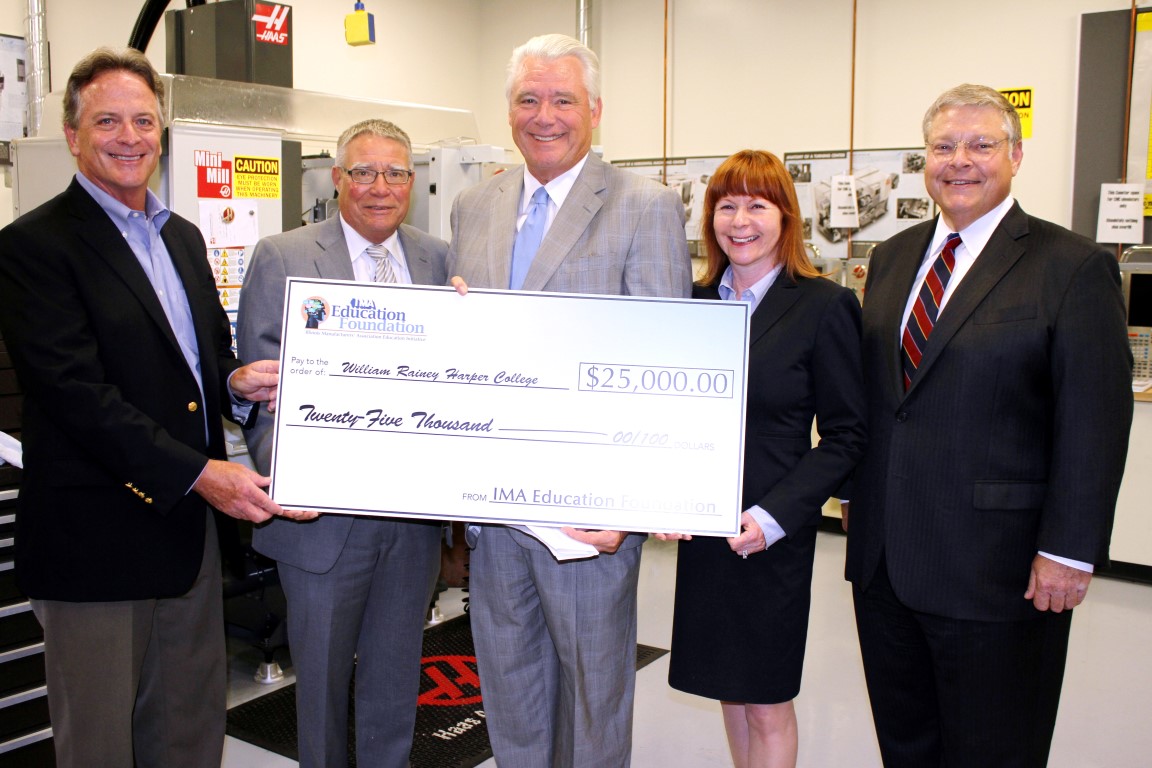 The Illinois Manufacturers' Association (IMA) Education Foundation awarded Harper College $25,000 in scholarship funds for meeting a series of set standards and performing at a high level of active engagement to foster greater educational opportunities within the field of manufacturing. Harper College is one of six institutions across the state that is receiving a scholarship from the IMA Education Foundation this summer.

In 2012, Harper College launched its Advanced Manufacturing program, helping fill vacant jobs within the Illinois manufacturing sector. The program offers students industry-endorsed skills certificates, state-of-the-art equipment and facilities, as well as paid internships with local manufacturers. Harper College offers college credit to high school students to encourage career paths in manufacturing and provides a variety of manufacturing courses including maintenance technology, manufacturing technology and welding technology.

"We are pleased that our Advanced Manufacturing Program met the IMA's rigorous standards and earned this important grant," said Harper College President Dr. Ken Ender. "Given the shortage of skilled workers in manufacturing, it is critical that we partner with industry groups to ensure that our local manufacturers have the highly trained workforce they need to compete in a 21st century global economy."

"Among the objectives of the IMA Education Foundation is a provision for IMA to provide scholarship opportunities for deserving students following a pathway of study leading to a manufacturing career," said Andrew Faville, chairman, Illinois Manufacturers' Association; CEO, Falex Corporation. "This scholarship award will assist manufacturing students with the cost of tuition, books, fees, transportation and childcare services so students can alleviate some of their financial concerns while focusing on their education and training."

"Harper College truly displays all the qualities for which this scholarship program is intended," said Sandra Westlund-Deenihan, CEO of Quality Float Works, Inc.; board of directors of the IMA Education Foundation. "As a local manufacturer who has seen first-hand the impact of the current skills gap in the workforce, I can attest that students participating in the educational programs at Harper College are leading the way in obtaining the training and skills to help fill the gap in the manufacturing industry."

Community colleges receiving funding must demonstrate active engagement with the manufacturing community by meeting certain set standards demonstrating their commitment to education and training focused on the manufacturing and technology sector.

"The students at Harper College have the potential to ensure our state will continue to build a strong pipeline for the workforce and fill the skills gap that is facing our industry," said Greg Baise, president and CEO, Illinois Manufacturers' Association. "We hope to continue broadening participation and working with these institutions to increase success across the board for students pursuing opportunities in the manufacturing sector."

The IMA Education Foundation Board of Directors has endowed an annual scholarship to six schools this summer and will make a second round of endowments in 2016-2017 to help students for years to come.