FMA, Harper College Partner to Construct New Metal Fabrication Lab
FMA, Harper College Partner to Construct New Metal Fabrication Lab

Harper News

June 29, 2015

June 29, 2015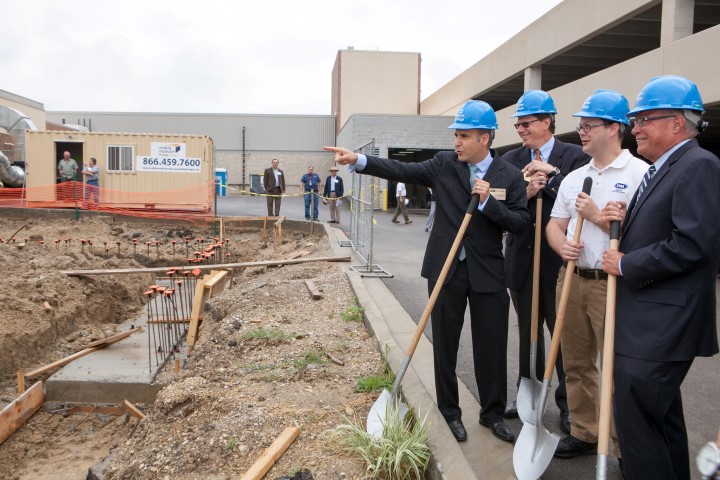 The Fabricators & Manufacturers Association (FMA) has partnered with Harper College for the construction of a new $1.5 million facility designed to create critically needed skilled workers for area manufacturers and related businesses. The new 6,000 square foot FMA Metal Fabrication Lab, funded in part by a $500,000 grant from the FMA, will double the size of Harper's current manufacturing lab.
A groundbreaking ceremony for the FMA Metal Fabrication Lab is set for Monday, June 29 at Harper's main campus in Palatine, Ill., a northwest suburb of Chicago. The lab is expected to open in the fall 2015.
The new facility will support Harper's Advanced Manufacturing Program which trains students for high tech manufacturing careers in mechatronics/automation, precision machining, metal fabrication and supply chain management/logistics. The program offers industry-endorsed skills certificates and paid internships with 75 local manufacturers. The program was the recipient of a $13 million federal grant to expand its best practices statewide.
The expanded facility will train up to 600 students annually and will house state of the art equipment such as lasers, turrets, press brakes, and robotic welders. Some of the equipment will be donated by FMA members. According to research from Deloitte and The Manufacturing Institute, the U.S. faces a shortage of nearly 2 million manufacturing workers over the next decade.
"Two years ago the chairman of the FMA Board of Directors challenged us to develop a new way for the association to create a workforce solution for our industry that would have a positive impact for a large number of member companies," said Ed Youdell, FMA president and CEO. "Establishing a stand-alone FMA University would have been cost prohibitive. Through discussions with Harper College, we found that partnering with an established program would be both cost-efficient and give us a speed-to-market advantage."
The $500,000 FMA grant has a unique structure: $400,000 will be released over the next five years and will be contingent on enrollment benchmarks and $100,000 will go to manufacturing students who qualify for the Harper Promise Scholarship. The Promise Scholarship guarantees area students up to two free years of tuition if they get solid grades, have good attendance, don't repeat classes and perform community service during all four years in high school.
"It's a unique approach," said Youdell. "The college has to grow the program in order to take full advantage of the grant and the timed disbursements will keep the association actively engaged in the process."
"We appreciate our partnership with the FMA in helping us train workers for good paying and family sustaining jobs in manufacturing," said Harper College President Dr. Ken Ender. "None of us can solve the shortage of skilled workers in isolation. By working together, we can ensure that our local manufacturers have the highly trained workforce they need to compete in a 21st century global economy."
Pictured left to right: Carlos Borjas, Immediate Past Chair, Fabricators & Manufacturers Association, Ed Youdell, President and CEO Fabricators & Manufacturers Association, Kurt Billsten, Assistant Professor and Coordinator, Harper College Advanced Manufacturing Technology Program, Dr. Kenneth Ender, President, Harper College,