Students get first look at new Geographic Information Systems program
Students get first look at new Geographic Information Systems program

Harper News

July 7, 2015

July 7, 2015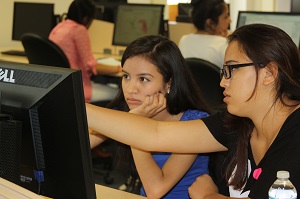 Yaresma Zavala recently got a glimpse into a major demographic shift. Using 20 years of U.S. Census data and Geographic Information Systems (GIS) technology, she designed a series of maps showing how Hispanics have increasingly settled in Chicago's surrounding suburbs instead of the city.
The GIS lesson came during this year's Adelante Academy, a four-week summer enrichment program that Harper College is currently holding for in-district Hispanic students.
Zavala, a recent graduate of Elk Grove High School, and her classmates are getting a taste of how to use spatial data and mapping principles in Assistant Professor Mukila Maitha's GIS class.
Starting in September, Harper will launch a Geographic Information Systems certificate program that can be completed within a year. Students can also earn a Database Management certificate.
"If you've used Google Maps, aerial photography or even seen a digital map, then you've seen geographic information systems in action," Maitha said. "It's a suite of technologies and expertise used to understand our world and solve problems using geography."
According to the U.S. Department of Labor, GIS occupations such as remote sensing and precision agriculture technicians are projected to grow "much faster than average" between 2010 and 2020. And the average salary for GIS systems analysts is nearly $65,000, Urban and Regional Information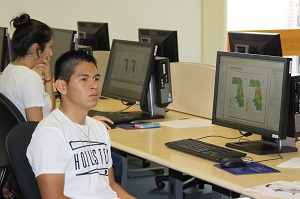 on Systems Association data shows.
GIS is woven into just about every industry. The technology allows users to visualize data in the form of interactive maps, making it easier to understand information and discover patterns and trends.
"Even if you're not a GIS technician, GIS is used in a variety of fields from engineering and fire science to business and anthropology," Associate Professor and Geography Department Chair Veronica Mormino said. "There are so many disciplines where GIS is needed."
Courses for Harper's GIS certificate program begin September 21. Classes are blended, meaning there's a combination of traditional in-person and online instruction.
For more information about Harper's new GIS certificate program, contact Maitha at 847.925.6521 or mmaitha@harpercollege.edu.
Media contact: Kim Pohl, Media Relations Manager, 847.925.6159