One Million Degrees mentors playing life-changing role
One Million Degrees mentors playing life-changing role

Harper News

August 11, 2019

August 11, 2019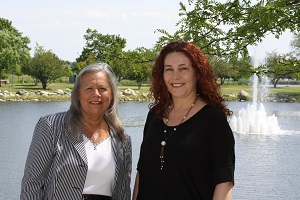 Viviane Motta de Mello came to the U.S. two years ago by way of Brazil and Chile with no knowledge of English, no friends and little insight into American culture.
Today, she's on track to graduate from Harper College next fall with a degree in paralegal studies. She plans to transfer to a four-year institution and one day, perhaps, go to law school.
The straight-A student, who started her journey taking English as a Second Language courses, credits much of her success to her One Million Degrees coach, Georgeanna Mehr.
"I want to be like her," Motta de Mello said. "I look at what she's accomplished in her life, and I'm inspired to do the same."
Mehr, president of Hoffman Estates Community Bank, became a mentor to Motta de Mello through OMD, a Chicago-based nonprofit organization that helps low-income, highly motivated community college students achieve success in school, work and life. Scholars benefit from free tuition, private tutoring, professional development workshops and financial literacy training.
Above all those supports, however, Motta de Mello most values her relationship with Mehr. OMD scholars are paired with a personal coach to mentor, guide and support them on their academic, professional and personal journeys.
At 37, Motta de Mello isn't your traditional student. She relates to Mehr, who didn't complete her degree until her children were well into their teens. She had earned a scholarship, but was deemed an ineligible recipient because she was married.
"For all my volunteer efforts, this is one that personally gives me such great satisfaction," said Mehr, who also serves as Vice President of Development on the Harper College Educational Foundation Board. "I know part of my professional success has been due to the people who took time to mentor me along the way. Some of these scholars have faced such barriers, and yet they're excelling. I find I'm learning so much from Vivi and her perseverance."
Mehr said their mentor-scholar relationship has developed into a friendship. They talk about everything from classes and job prospects to their families and how to go about getting a car loan.
Motta de Mello, who developed an interest in law while working with surgical material sales contracts back in Brazil, is grateful for the support she has received through OMD's partnership with Harper. She encourages others in the community to consider supporting the program any way they can.
"People need to realize how they can make a difference," she said. "They can change another person's life. I know Georgeanna has changed mine."
OMD scholars are graduating from community colleges at a rate of 70 percent – three times the national average – and transferring to four-year colleges and universities or entering the workforce in high-demand fields. For more information about the program, visit onemilliondegrees.org.
Media contact: Kim Pohl, Media Relations Manager, 847.925.6159