U.S. Rep. Tammy Duckworth, Northrop Grumman visit Harper
U.S. Rep. Tammy Duckworth, Northrop Grumman visit Harper

Harper News

August 26, 2015

August 26, 2015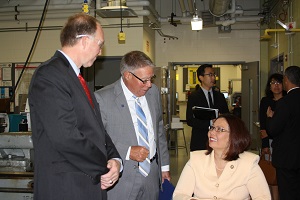 Representatives of Northrop Grumman, one of the largest manufacturers in the northwest suburbs, joined U.S. Representative Tammy Duckworth (IL-08) at Harper College to highlight the need to train more students for jobs in advanced manufacturing.
According to a 2015 survey by Deloitte and The Manufacturing Institute, 82 percent of manufacturing executives say workforce shortages have a significant impact on their ability to meet customer demand. They also say 6 of every 10 production openings they have are unfilled due to a shortage of skilled workers.
Northrop Grumman executives and Rep. Duckworth touted Harper's Advanced Manufacturing Program which was developed to train students for good-paying manufacturing jobs in the Chicago area. The program partners with 70 area manufacturers that offer paid internships and apprenticeships to go along with rigorous classroom training in fields such as precision machining, mechatronics/automation, metal fabrication, welding and supply chain management.

In 2012, the U.S. Department of Labor awarded Harper $12.9 million to expand the program's unique curriculum and business model to community colleges across Illinois. Since then, more than 2,100 students have enrolled in manufacturing training throughout the state.
"Our partnership with area manufacturers has been a tremendous success, not only in helping us develop the program's curriculum, but also in giving students real work experience on the manufacturing floor," said Harper College President Dr. Ken Ender. "Together we are making substantial progress in building a pipeline of highly skilled workers to meet the needs of 21st Century manufacturing."
Last year, Harper partnered with defense contractor Northrop Grumman to train workers for openings in their high-tech manufacturing facility in Rolling Meadows, Ill. Company officials worked with Harper to design a series of coursework specific to their needs. Northrop Grumman also provided paid internships to students to combine classroom learning with work experience. Four students will complete the program this fall and the company has asked for seven additional students to enter the program this year.
"Inspiring and developing talented students interested in pursuing careers in science, technology, engineering, math (STEM) and manufacturing is something that is very important to us," said Jeffrey Q. Palombo, Vice President and General Manager of Northrop Grumman's Rolling Meadows-based Land and Self Protection Systems Division. "This unique program allows us to build on the solid educational foundation these students receive at Harper by providing real-world experience and skillsets that make the transition into manufacturing positions easier."
Representative Duckworth, whose district includes one of the country's largest industrial parks in Elk Grove Village, says developing public/private partnerships is a key component to developing a skilled manufacturing workforce.
"Harper College's Advanced Manufacturing Program is a shining example of the economic benefits that stem from industry, educational institutions and the public sector working together to strengthen America's workforce to meet the needs of a 21st Century economy," said Duckworth. "Manufacturers in the 8th District often tell me that they are prepared to create new American jobs today, but cannot find enough Americans with the necessary skills. I'm proud that Harper College is leading the way in demonstrating how community colleges can play a vital role in uniting students, industry and government to fill this skills gap and strengthen our economy."
About Harper College
Harper College is one of the largest community colleges in Illinois with an annual headcount of over 35,000 students. The College's main campus is located in Palatine, Ill., and serves 23 communities that make up the northwest suburbs of Chicago. Under President Dr. Ken Ender, Harper has become a national leader in student success by increasing graduation, transfer and certificate completion rates, aligning the College's curriculum with high schools, training students for new economy jobs and implementing new accountability and transparency standards. Since 2009, Harper has experienced record graduation rates and a dramatic increase in the number of students who come to Harper college-ready. The College has also formed new alliances with businesses and manufacturers to fill the shortage of skilled workers in key industries in the Chicago area.
About Northrop Grumman
Northrop Grumman is a leading global security company providing innovative systems, products and solutions in unmanned systems, cyber, C4ISR, and logistics and modernization to government and commercial customers worldwide. Please visit northropgrumman.com for more information.