Fire Science Technology program receives national distinction
Fire Science Technology program receives national distinction

Harper News

November 12, 2015

November 12, 2015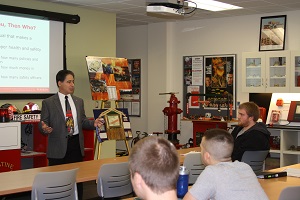 Harper College's Fire Science Technology program has earned national recognition from a U.S. Fire Administration program.
The Fire and Emergency Services Higher Education initiative, which aims to promote higher education and enhance the recognition of the fire and emergency services as a profession to reduce loss of life and property from fire and other hazards, certified that Harper's program meets all standards of excellence.
Harper is just the fourth community college in Illinois to receive this recognition.
"The new recognition and certificate means Harper College's Fire Science Technology Associate of Applied Science degree is recognized nationally by fire departments across the country," said Professor Sam Giordano, Fire Science Technology program coordinator.
Giordano said the national initiative encourages collaboration among college degree programs and state fire training agencies. The mark of excellence represents the idea that firefighters and fire officers armed with the knowledge and degree they receive at Harper can reduce the human and economic impact of fires in their communities.
"Our goal is to train firefighters to be the best in the nation, giving them the skills and knowledge they need to save lives and property while keeping themselves safe," Giordano said.
Firefighters across the suburbs credit the program for launching or furthering their careers. Firefighter-paramedic Joseph Rosner said the degree gave him an edge in the hiring process, and set him up for success once he became part of the Crystal Lake Fire Department. Deputy Chief Peter Ahlman of the Arlington Heights Fire Department was already a veteran in the field when he came to Harper.
"I have learned a lot through practical experience and various classes over the last 25 years, but the Harper Fire Science Technology program provided a whole new depth of understanding in everything from the most basic to the most complex fire technology subjects through excellent and innovative materials, teachers and teaching methods," Ahlman said.
Harper's Fire Science Technology degree dates back to 1967. It's endorsed by the Office of the Illinois Fire Marshal and has the support of the mutual aid organization MABAS Division 1 as well as local mayors, managers and trustees.
Media contact: Kim Pohl, Media Relations Manager, 847.925.6159