Harper celebrates naming of the Foglia Center for Nursing and Allied Health
Harper celebrates naming of the Foglia Center for Nursing and Allied Health

Harper News

November 17, 2015

November 17, 2015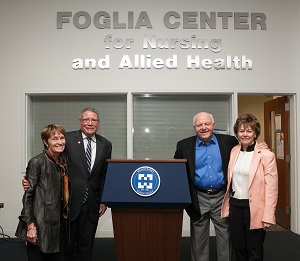 Harper College celebrated the naming of the Foglia Center for Nursing and Allied Health in honor of Vince and Pat Foglia, who recently invested a $1 million gift in the College's new Promise Scholarship Program.
After the dedication, guests at the ceremony observed nursing students working in Harper's Simulation Hospital.
Vince Foglia, a North Barrington philanthropist, is the longtime Chairman of the Board and CEO of Cary-based medical supply company Sage Products.
Harper's Promise Scholarship provides public high school students in the district with two years of free tuition if the student meets requirements for college and work readiness. High school freshmen are currently signing up for the program, and tracking for the scholarship will begin in January.
For more information, visit harpercollege.edu/promise.
Media contact: Kim Pohl, Media Relations Manager, 847.925.6159