Explore solar system through new permanent exhibit
Explore solar system through new permanent exhibit

Harper News

December 15, 2015

December 15, 2015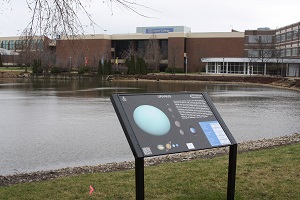 Harper College's Karl G. Henize Observatory may have wrapped up its open viewings for the year, but that doesn't mean there aren't opportunities to continue exploring the skies.
The College recently installed a permanent outdoor solar system model that takes visitors on a short walking tour of the sun and planets.
The sun and planets each have an exhibit featuring an overview, images, interesting facts and a QR code that links to Harper's website for more information.
The model is on a one-to-10 billion scale, so the stations are spaced apart just as the sun and its system of planets are – only at one 10-billionth of the actual distance. They also show size at scale, so the sun is about the size of a grapefruit while Earth is the size of a ballpoint pen tip.
"We had a temporary model last year that about 600 people toured," said Joe Kabbes, Harper's Astronomy Outreach Coordinator. "Everyone really enjoyed it, so the Dean (Kathy Bruce, Dean of the Mathematics and Science division) looked into making it permanent."
The model begins near the Observatory and continues on the sidewalk along the lake and around the Wojcik Conference Center. It ends with Pluto between parking lots 12 and 13. Many employees at Harper had a hand in the model, as did the welding students who built the metal stands holding each exhibit.
For more information about the Observatory, visit harpercollege.edu.
Media contact: Kim Pohl, Media Relations Manager, 847.925.6159