Fulbright-in-Residence winds down semester at Harper
Fulbright-in-Residence winds down semester at Harper

Harper News

December 15, 2015

December 15, 2015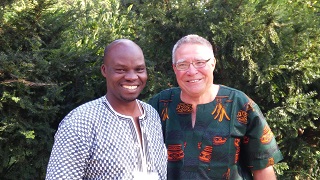 Fulbright Scholar-in-Residence Jimrex Byamugisha took a few minutes at the December Board of Trustees meeting to reflect back on his semester at Harper.
Byamugisha, who's been a central player in Uganda's national conversation on climate change, HIV/AIDS, child labor and the World Vision organization's efforts to battle systemic poverty, said the Harper community quickly embraced him.
"I have a wonderful family at home in Uganda, and now I have a wonderful family here," he said. "People opened their homes to me."
Byamugisha, a lecturer at Makerere University in Kampala, Uganda, gave 22 lectures throughout the fall semester aimed at exposing students to an African perspective on a number of issues such as business in a global market and education.
The statistician, economist and educator also visited seven colleges, one university and several religious and community organizations.
"To develop globally competent students, you need globally minded faculty," said Dr. Richard Johnson, Director of the Office of International Education at Harper. "His visit provides the College with a unique opportunity to offer transformative educational experiences to our students."
Byamugisha also looked forward to how Harper and Makerere University faculty can exchange ideas in the future, conduct joint research and implement study abroad programs for both student bodies.
Byamugisha's visit boosts Harper's commitment to internationalizing its curriculum and globalizing its students' educational experiences. The mission of the Office of International Education is to effectively prepare students for careers and citizenship in an increasingly interconnected world.
Harper is currently in the second year of a three-year regional focus on East Africa, home to some of the fastest growing economies in the world. Last year emphasized faculty development, Byamugisha has been the central pillar to this year's focus and next year will launch a student study abroad experience.
"It is vital for Harper students to understand a region of the world that will grow in global significance during their careers and lives," Johnson said. "The probability that our students will work for employers with business interests or connections to emerging markets including Africa is high."
Since 1997, Harper has hosted five Fulbright Scholars. Harper was one of six community colleges across the country selected this year to independently host a Fulbright Scholar-in-Residence.
For more information on Byamugisha's visit, go to dept.harpercollege.edu/international.
Media contact:Kim Pohl, Media Relations Manager, 847.925.6159