Health Information Technology Degree
Prepare for an In-Demand Health Info Tech Career
Career outcomes
---
Health information technician
Medical records technician
100% Online: Learn anywhere, anytime.
100% Accredited: Prepare for RHIT exam.
100% Focused: Industry-recognized faculty support your success.
100% Affordable: In-district tuition for all. No residency requirement. (through Spring 2022)

Earn your degree and prepare for a career in health information technology with this AAS degree program. Full and part-time options begin each Fall semester only.

Top 3 Reasons
Versatile skills for in an in-demand industry
Develop leadership and management skills to link clinicians, administrators and IT professionals. Employment is offered in patient data and pharmaceutical companies, law and insurance firms in addition to hospitals and doctor offices. According to the USDOL, HIT will grow to encompass new support positions, including mobile support adoption positions, public health informatics, implementation support specialists, and information management redesign specialists
Developed for motivated and busy learners, everywhere
This online program offers you the opportunity to learn online ANYTIME with the full support of a nationally respected academic institution, a team of expert faculty and a full suite of tech support to help you succeed each step of the way. View the online orientation or check out the demo course to see how the program can work for you. Affordable in-district tuition is offered to all students regardless of residence. Harper College also offers generous scholarships and tuition relief programs.
Competitive salaries
The national median annual salary for medical records and health information technicians was $40,350 (May 2018 Health Information 101, ahima.org.) Recent Harper grads with the RHIT certification have reported starting annual salaries as high as $49,000. Within five years and with additional education at the bachelor's level, one can earn upwards of $50,000 to $75,000 annually. The University of Illinois at Chicago offers an online bachelor's completion degree.
After graduating, you're eligible to take the Registered Health Information Technician (RHIT) exam.
Interested learning more? Attend a virtual info session.
New Fall 2021 online program curriculum
The curriculum has been rebuilt and reimagined to provide you with ultimate flexibility, convenience and industry-relevant skills. with Fall 2021. Preview the new curriculum.
Current program plan
Program Information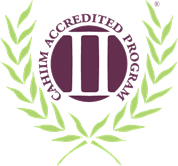 Accreditation Statement: The Health Information Management accreditor of Harper College is the Commission on Accreditation for Health Informatics and Information Management (CAHIIM). The College's accreditation for the Associate Degree in Health Information Technology (AAS HIT) has been reaffirmed through 2023-2024. All inquiries about the program's accreditation status should be directed by mail to CAHIIM, 233 N. Michigan Avenue, 21st Floor, Chicago, IL, 60601; by phone at 312.233.150; or by email at info@cahiim.org.
Domain I. Data Structure, Content, and Information Governance
I.1. Describe health care organizations from the perspective of key stakeholders.
I.2. Apply policies, regulations, and standards to the management of information.
I.3. Identify policies and strategies to achieve data integrity.
I.4. Determine compliance of health record content within the health organization.
I.5. Explain the use of classification systems, clinical vocabularies, and nomenclatures.
I.6. Evaluate data dictionaries and data sets for compliance with governance standards.
Domain II. Information Protection: Access, Use, Disclosure, Privacy, and Security Information Protection
II.1. Apply privacy strategies to health information.
II.2. Apply security strategies to health information.
II.3. Identify compliance requirements throughout the health information life cycle.
Domain III. Informatics, Analytics, and Data Use
III.1. Apply health informatics concepts to the management of health information.
III.2. Utilize technologies for health information management.
III.3. Calculate statistics for health care operations.
III.4. Report health care data through graphical representations
III.5. Describe research methodologies used in health care.
III.6. Manage data within a database system.
III.7. Identify standards for exchange of health information.
Domain IV. Revenue Cycle Management
IV.1. Determine diagnosis and procedure codes according to official guidelines.
IV.2. Evaluate revenue cycle processes.
IV.3. Evaluate compliance with regulatory requirements and reimbursement methodologies.
Domain V. Health Law & Compliance
V.1. Apply legal processes impacting health information.
V.2. Demonstrate compliance with external forces.
V.3. Identify the components of risk management related to health information management.
V.4. Identify the impact of policy on health care.
Domain VI. Organizational Management & Leadership
VI.1. Demonstrate fundamental leadership skills.
VI.2. Identify the impact of organizational change.
VI.3. Identify human resource strategies for organizational best practices.
VI.4. Utilize data-driven performance improvement techniques for decision making.
VI.5. Utilize financial management processes.
VI.6. Examine behaviors that embrace cultural diversity.
VI.7. Assess ethical standards of practice.
VI.8. Describe consumer engagement activities.
VI.9. Identify processes of workforce training for health care organizations.
Next steps
For more information about studying healthcare informatics at Harper, contact Admission Outreach at 847.925.6700, or submit a request information form. You can also apply online.