Information for Students
Campus is only open to students with on-campus courses.
All students on campus will need a Harper ID and masks are required.
All Harper offices and departments will be offering service by phone and online while campus access is limited.
How to Read Your Class Schedule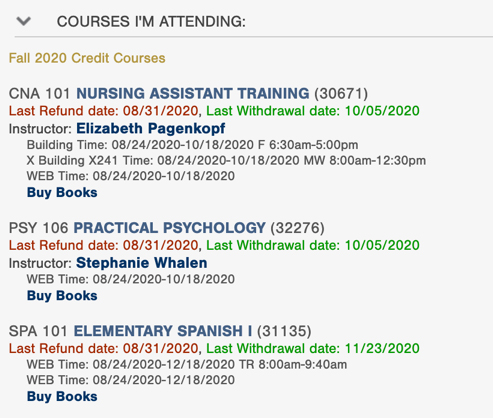 Login to your MyHarper portal and look at the "My Course Schedule" section. Classes will be indicated in three ways:
Blended: These courses will display with a room location, day and time. They will also show a WEB time, which will only show dates. The on-campus portion of the course takes place on the days and times indicated next to the building location.
Online: These classes will show a WEB time with only a date range. Students will progress through the course following set deadlines from their faculty, while working independently.
Online Discussion: These are online classes where students will need to sign on at a designated time. These courses will show a WEB time with days and times indicated. Students are expected to be online during this time.
Technology trouble? Let us loan you a Chromebook or graphing calculator for the semester or contact the Student Service Desk for help with your devices or software.
Need books? The HarperStore and Harper College Library are offering curbside pickup.
Want to connect with other students? Mark your calendar for one of our virtual events.
Remote learning resources: View resources or call 847.925.6484 for additional assistance. See also: Student FAQs.